M A I N N E W S
Xinjiang Violence
China orders crackdown on religious extremists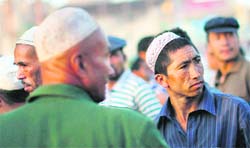 Beijing, August 8
China has ordered "harsh" crackdown on "religious extremists", especially those infiltrating from across the border following a spate of deadly attacks in the strategic Xinjiang province blamed on militants trained in Pakistan.
Zhang Chunxian, secretary of Xinjiang regional committee of the ruling Communist Party of China (CPC) of far western China's Xinjiang Uyghur Autonomous Region, "has ordered a harsh crackdown on religious extremists in the latest clampdown on outbursts of violence", the government-run Xinhua news agency said today.
His "pledge" to crackdown on militants at a regional government meeting comes in the wake of bloody attacks in Kashghar city close to PoK that claimed 22 lives in China's northwest province on August 1. The top Communist party leader underlined the need for a "strike-hard policy in the crackdown against terrorists... to resolutely curb the continued occurrences of violent terrorist cases".
Zhang said managing of religious affairs should follow the central government's policy to "protect the legitimate, ban the illegal, fight infiltration, and crack down on crimes".
The reference to "infiltration" appeared significant in the background of China, for the first time, blaming Uyghur "militants" trained in Pakistan for the deadly violence in Kashghar. Even though today's reference to infiltration did not make any direct reference to Pakistan, it apparently referred to the attacks from across the border. — PTI