Eye-Catcher
Amma's Advice: Traditional Wisdom for Modern Times
By Mata Amritanandamayi Devi.
Konarak Publishers. Pages 205. Rs 3,500.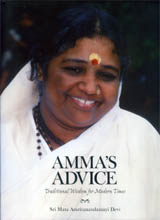 THE Hugging Saint" has carved out a special place in contemporary Indian spirituality. She has thousands of disciples, and this book lays out her message in short, well-illustrated chapters. The wide range of topics includes "Women should be Free to Worship", "Love must Begin at Home", "The Purpose of Being God-fearing", and "The Pointlessness of War".
The book carries a foreword by Dr APJ Abdul Kalam, a former President of India. Sri Mata Amritanandamayi Devi is also widely known for her humanitarian work, which has been lauded by the likes of Michael Bloomberg, Mayor of New York, and the late Yolanda King, former director of Martin Luther King Centre.
The prose is simple, and it causes one to take a step back from the humdrum of daily life and reflect. Devotees will surely not mind buying this expensive, coffee-table book, and thus preserving Mata Amritanandamayi Devi discourses for ready reference. —RS