Green delight
The dhania pudine ke alu, which come handy during the time one is fasting, are a worthy replacement for hing jeere ke alu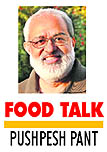 There is an old saying in Hindi, ĎSawan ke andhe ko hara hi hara nazar aata hai.í This can be literally translated as one who goes blind at the onset of monsoon can see only colour green for the rest of his life. At times, we think that this has been coined for us. Once the first showers hit the scorched earth and rejuvenate it, all we can see is green. Donít get us wrong. We are not jealous of anyone but we just canít have enough of the refreshing emerald hue. Grass grows faster, plants strike shoots and moss covers the walls, indeed what can be more refreshing and soothing than delicacies that too are green?
This is the time to celebrate the season with tikka hariyali, chutney wali macchi (in leaf and if you have not eschewed the Jal ki Raani for four months) and so much more. This is what has inspired us to offer our readers potatoes in a different garb.
Potatoes are a perennial favourite. They come in handy during the time one is fasting and are consumed as staple. On other occasions, they happily complement many a main course dish. Try this one out at the earliest. For us, they are a worthy replacement for hing jeera ke alu that have begun to jade the palate.
Dhania pudine ke alu
Ingredients
Potatoes (extra large ones) 250 gm
Fresh coriander leaves 100gm
Fresh mint leaves 100gm
Ginger paste 1tsp
Green chillies (slit and deseeded) 4 to 6
Coriander powder 1tsp
Salt to taste
Oil to deep fry
Method
Peal and wash the potatoes. Then cut lengthwise and half again similarly to obtain large wedges. Clean and wash the coriander and mint leaves, chop then grind into a coarse paste along with the chillies. Heat oil in a thick bottomed pan and deep fry the potatoes till they are of a rich golden hue. Remove and place on kitchen towels to remove excess oil. Put a shallow pan on medium high flame and put 2tbsp oil in it. When hot, add the dhania-pudina paste, along with the ginger paste and coriander powder. Stir fry for about 30 seconds and then put in the fried potatoes. Sprinkle a few drops of water, stir and cover. Simmer for two minutes. Remove and enjoy after squeezing a few drops of lemon juice.