Hamming all the way
Steeped in sorcery and revenge, Marcus Nispelís Conan the Barbarian 3D is only for hardcore action buffs

This new Conan the Barbarian is an action-packed drama of sword and sorcery set in a primitive unknown land and mixes genres and outlandish locales as this one-man army works overtime (all of 112 minutes) to deliver the goods.
You have yelling savages and spirits that are given powers that no human must possess. If ravaging the land is not enough, the action shifts out at sea where buccaneering heroes swing from ship masts, reminiscent of Errol Flynn in his Captain Blood escapades of the 1940s. All this is quite exciting but the violence is excessive, making one wonder if indeed the Censors had fallen asleep.
Based on a story by Robert Howard, it has nothing to so with the 1982 Arnold Schwarzenegger film. Director Marcus Nispel has a vast canvas, aided by a fair screenplay Thomas Dean Donnelly and others steeped in sorcery and revenge.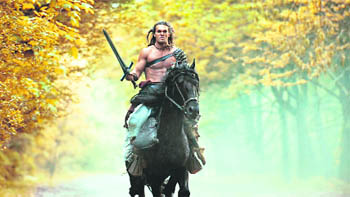 Jason Momoa is a tad more expressive than Arnold Schwarznegger
Conan (Jason Momoa) is out to avenge his dad (Ron Perlman) and he soon finds out that Khalar Zym (Stephen Lang) is the villain of the piece.
Protected by his powerful witch daughter Marique (Rose McGowan), long nails et al, they are out to get beautiful Tamaraís (Rachel Nichols) blood, which will help revive Zymís dead wife. The establishing shots are quick in providing the backdrop and though there are brief spells of action replete with special effects, they do not halt the flow of the narrative. At the height of the fighting, ghost warriors appear out of thin air and make their exit as fast, crumbling as if made of sand. ďI live, I love, I slay and I am content,Ē Conan tells Tamara as though to rebuff her love overtures but for how long? Eve has always won the battle of the sexes and this is no different. But love is a rare occurrence and all you hear is the thudding of hoofs, the clashing of swords and crashing of the woodwork. All this is rounded up with a catfight between the two women.
Jason Momoa is a tad more expressive than Schwarznegger but whether it is an advantage or otherwise is debatable. There is very little of talent on display. Itís hamming all the way and Rachel Nichols may be easy on the eye but not compensation enough for the violence one has to suffer through. Only for hard-core action buffs.