Ingrid's charm endures

Gifted with intensity and emotional depth, Ingrid Bergman was at her best in romantic scenes, writes Ranjan Das Gupta
Satyajit Ray was watching Joan of Arc at Lighthouse, Kolkata, during its second run in the mid 1950s. After seeing the film, his opinion about its heroine Ingrid Bergman was that she hypnotised her audience. This view of Ray was also shared by Alfred Hitchcock and Ingmar Bergman.The 'Swedish Cow', as Hollywood defined her during her initial days, took the American cinema by storm in the 1940s and 1950s. Ingrid Bergman, who hailed from Sweden, was a leading actress in Europe, prior to moving to Hollywood. She was tall, immensely beautiful and a born actress. Though her cheeks reflected a stubborn attitude, Ingrid Bergman was reflexive in nature.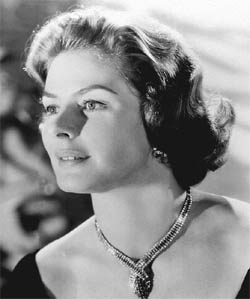 She is remembered three decades after her demise on August 29, 1982, as Joan of Arc personified. Her most memorable performance, for which she won an Oscar, Ingrid Bergman transcended barriers of method acting. In Joan of Arc as she is set on fire, Ingrid Bergman conveyed a helpless blank look in one big close up. There were just a couple of teardrops in her eyes. She had to be shaken thrice after the shot got over to be brought back to normal. So engrossed was she in her character that she confessed she was Joan in her earlier birth.
Gregory Peck, with whom she co-starred in Hitchcock's classic Spellbound, was performing an intense scene with her. Ingrid Bergman was initially getting carried away by her co-star's devastating looks and gait. She quietly controlled her feelings and took a deep breath prior to her final take. Closing her eyes, she opened them looking straight into Peck's confident eyes and embraced him without a word. A stunned Gregory Peck had to opt for a second take to react properly. Ingrid Bergman became one of his all-time favourites.
Unlike Greta Garbo, Ingrid Bergman lacked mystique charm but she was gifted with intensity and emotional depth. In this aspect, she was close to Vivian Leigh. Blessed with a mobile face, which was a cinematographer's delight, Ingrid Bergman was at her best in romantic scenes. No wonder as she sobbed, "Divorce her" to Cary Grant in an intimate love scene in Indiscreet, she set the silver screen on fire.
Casablanca, For Whom The Bells Toll, Visit, A Walk In The Spring Rain all stand testimony to her classic talent and rhythmic walk. Perhaps her greatest histrionic challenge was Roberto Rosalina's Stromboli in which she made her shoulder, backbone and hips combined to react to a subtle emotion with amazing ability.
Ingrid Bergman was basically an introvert and always kept to herself. She used to recite poems by Shelley, Keats and Byron — her most favourite poem being Ode To The West Wind. She spent hours dancing to Beethoven's Fur Elise to gather inspiration. She took solace in European cinema and spiritualism. Ranked among five all-time greats of world cinema, Ingrid Bergman was an inspiration for Audrey Hepburn, Elizabeth Taylor and Meryl Streep. Blessed with divinity, she lived her life to the hilt.