Alice in the garden

The Mad Hatters, Cheshire cat, besides other characters from Lewis Carroll's famous book Alice in Wonderland, stole the show at this year's flower show near London, writes Daksha Hathi
What on earth were Alice, the Mad Hatters, and that cheeky Cheshire cat doing at the Hampton Court flower show near London? Could it be to coax more visitors to pay up the hefty 20 pounds for the ticket? This always well-attended floral extravaganza lures garden lovers like catnip lures the sleepiest and laziest cats.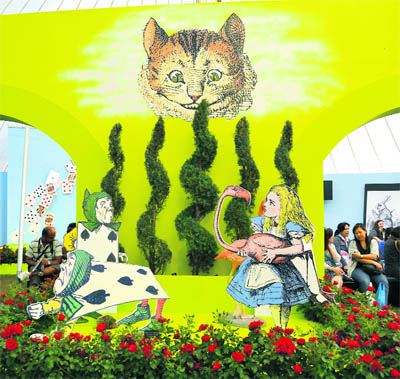 Children from many schools used the Alice in Wonderland characters to beseech the world to save the planet with organic farming, using water carefully and avoiding pesticides in gardening Photos by the writer
While the begonias and the chrysanthemums trounced the sadly drooping roses this year, it was Alice and her gang which stole the show. Children from many schools used the Alice in Wonderland characters to beseech the world to save the planet with organic farming, using water carefully and avoiding pesticides in gardening.
Did you know that fallen leaves contain 50-80% of the nutrients that a tree extracts from the earth? By composting them, we are helping the earth to replenish itself. In a supervised project, Colorado dumped over 5000 old Christmas trees on the bottoms of nearby lakes. It may sound strange but it was to benefit the ecology. The trees shelter fish and attract bugs for them to eat!
Every little garden made for this show had important advice and charm. There was a garden designed by Jayne Thomas to commemorate Percy Bysshe Shelley and his poem Mont Blanc inspired by the immense powers of nature.
There was a little garden to create awareness about Breast Cancer and another to coax you to start a kitchen garden.
Another marvel that lured visitors, like ants to sugar, was the very charming Garlic Garden created by The Garlic Farm on the Isle of Wight, which for 30 years has been sourcing the best strains of garlic from across the world to grow it. Its seed garlic has won the RHS gold medals Awards of Gardening Merit. It has 15 varieties of garlic stock, including the world famous Elephant Garlic. To dress up garlic so enchantingly was a well deserved tribute to this herb, which has often saved lives and is also bearing down healthily on beating up cancer!
Claiming to treat you to the best garlic bread ever made, this garden also sells for children a garlic, rhubarb and pear ice cream! You can buy their winning garlic bulbs to grow in your own garden, with full instructions. This place also introduces you to the famous Purple Moldovan Garlic. They will lure, entice and badger you into garlic growing, saying that it can be grown in containers, tubs and even used in formal flower borders to add colour and best of all, to protect your roses from the dreaded greenfly pest!
The chrysanthemum corner laden with giant-sized pots of stunning Mums (another very British name for Chrysanthemums) quietly showed off with a dazzling rainbow show stopper. Equally dazzling were the orchids, several cactus, lilies and tulips.
While garden equipment like stone cats, dogs, birds, owls, gnomes, fairies and witches tempted people to buy, the plants were cheaper and were taken away briskly. One garden even had an entire living room made up of green furniture and was enticing. Two real ducks in an enclosure were ever ready to greet everyone with their innocent blinks.
Every year, the rain cannot help itself and always drenches this show for two to three days as if purposely to unsettle the roses. But floral greed overcomes all garden crazies and they slosh their way through the wet slush just to soak in the peace of plant magic. This year, too, they tramped firmly through the grounds of the palace of that very unkind Henry the VIII, who slaughtered his wives, like gardeners murder pests (and their gardens) with too many chemicals.