Bollywood statues woo fans
A large number of Indians throng to see the wax models of the Bollywood superstars in Londonís Madame Tussauds. Officials of the Madame Tussauds said that over the years, there was a surge in the number of Indians who visited the museum.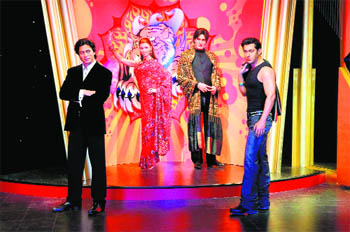 Wax statues of Hindi filmstars draw huge crowd at Madame Tussaudsí museum, London
"The Bollywood area is very popular and it will continue to be so. We get a lot of people from India coming over and the Indian Diasporas is huge all over the world. So, thatís what helps," says Raj Ali, an operations host.
Among the prominent Bollywood stars, whose wax statutes have been included in the museum, are Amitabh Bachchan, Shah Rukh Khan, Aishwarya Rai Bachchan and Hrithik Roshan.
"I really liked this and Iíd like to see more statues from different categories, not only sports, not only political, the people from like poor to rich and rich to poor whoever," says Kiru Barahan, visitor from Toronto, Canada.
The Bollywood wax statues have garnered huge appreciation from Indians over the years, persuading the officials to include more renowned Indian celebrities.
The other prominent Indian personalities, whose wax statues draw huge crowds, are those of famous Indian cricketer Sachin Tendulkar, freedom fighter Mahatma Gandhi and the late former Prime Minister, Indira Gandhi.
The museum was founded by wax sculptor Marie Tussaud and has become a major tourist destination. Marie Tussaud was born in 1761 in Strasbourg, France. She learnt the art of wax modelling from Philippe Curtius, a physician. The first wax model that she created was of Voltaire, in 1777. ó ANI