ulta pulta
A Test-ing fast
Jaspal Bhatti
Team India supports Anna. They seem to say they will not win any Test series unless the Jan Lokpal Bill is passed. India's dethroning in Test cricket in England has broken the heart of millions of fans across the country. Thanks to Anna's mass campaign against corruption, many heart-breaking sounds on account of cricket debacle couldn't be heard much.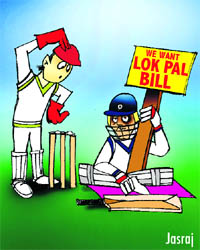 You never know someone might sit at a satyagraha at Jantar Mantar or Nehru Stadium against the Board of Control for Cricket in India (BCCI) to find the real reason for such an inglorious defeat. Many attribute this to too much of cricket and IPL. I think Team India needs a break. The problem is how the world's costliest players could take rest from earning money. The solution is to send them to some reality show like Big Boss for three months without bat and ball but handsome contract money.
The BCCI should keep the cricket calendar sufficiently spaced out so that there should be ample time for cricketers to do shopping in between the matches. What's the use of earning big money when you cannot get time to spend it? This puts psychological pressure on the players. If Sehwag is playing under pressure of his wife's voice resounding in his head, "When you go to England, do not forget to bring a diamond and emerald necklace from Harrods", he is likely to be bowled out. Moral: Too much play and no household chores spoil a cricketer.