No muscle-flexing for loan recovery, banks told
Tribune News Service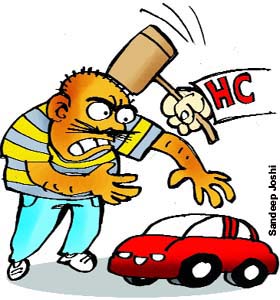 Chandigarh, October 20
In a significant judgment, the Punjab and Haryana High Court has made it clear to the banks that they can neither engage enforcement agencies for recovery of outstanding dues, nor claim from the borrower the amount paid to such agencies. Legal charges too cannot be recovered from the borrower.
The ruling by Justice Hemant Gupta and Justice GS Sandhawalia came on a bunch of two petitions filed through counsel Anand Chhibbar and other advocates by Mohinder Pal Singh and other petitioners against the State Bank of India and other respondents.
The petitioners had challenged the action of the bank in taking possession of secured assets, even though the amount of financial assistance stood substantially paid.
In one of the petitions, the petitioner availed a loan of Rs 10 lakh after mortgaging a piece of land, but defaulted in payment.
The bank then sought the assistance of an enforcement agency, Vrinda Corporate Services Ltd, to take possession of the immovable and movable property, as an agent of the bank.
It contended that since the borrower did not pay the outstanding dues, notice of sale was issued on May 27, 2009. Moreover, "the borrower was also liable to pay the accrued interest and the actual expenses incurred by the bank in effecting the recovery."
The petitioner, on the other hand, argued the property could not be sold as the entire amount, as mentioned in a notice, stood paid.
Appearing before the Bench, the counsel for the petitioner contended the amount paid to the enforcement agent was a reward and not reimbursement of expenses. As such, the amount could not be charged from the petitioner.
The Bench asserted: "We find that the action of the bank in engaging an enforcement agency and claiming amount paid to such agency as unjustified and untenable".
Elaborating, the Bench asserted: "Though the Reserve Bank of India, as per the circular dated November 3, 2006, has permitted outsourcing of certain financial services, some safeguards are to be kept in view while giving effect to the agreement engaging such enforcing agencies.
"Such agreement restricts the rights of the commercial bank in engaging enforcement agents for effecting recoveries under the Securitisation and Reconstruction of Financial Assets and Enforcement of Security Interest Act, 2002."
The Bench concluded: "The amount paid to the enforcement agencies is a reward for the services. The amount of reward cannot be passed on to anyone else. Such amount has to be paid to the enforcement agencies out of the assets realised, or by the bank out of funds at its disposal.
"We dispose of the present writ petitions with direction to the respondent-bank to recalculate amount payable by the borrower(s) by deleting the charges/expenses of the enforcement agencies, legal fee and the interest on the amount of expenses".