'Meaningful poetry lies at heart of ghazal'
SD Sharma Interviews ghazal maestro Chandan Das for whom singing is an expression of universal human emotions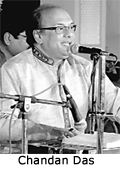 "Ghazal mein zaat bhi hai aur kayanaat bhi hai/ Hamari baat `A0bhi hai aur tumhari baat bhi hai`85" Endorsing the essence of poet Ale Ahmad Saroor's couplet which defines ghazal, the acclaimed ghazal maestro Chandan Das maintains that this genre of poetry is an expression of the entire spectrum of human emotions, both personal and universal.
Ghazal singing is a musical art that seeks to deepen the listener's `A0conceptual grasp and understanding of life in all its manifestations, adds Chandan Das. In the city recently for a performance in Pinjore heritage festival, the Mumbai-based `A0playback and ghazal singer shared experiences of a journey spanning 35 years.
"Like in any other typical Bengali family, I grew up listening to Rabindra sangeet from my elder sister Dolly Das. I was emotionally very attached to her as my mother had expired when I was barely two years old", discloses Chandan Das on a sad note. During his childhood at Murshidabad, he was fascinated by royal Muslim musical culture. He says, "My house was very close to the palace of Nawab Siraj-ud-Daula. I learnt thumri and ghazal from Mirza Khan, the royal gayak there. My businessman father was opposed to my opting for singing as a career, so moved to Patna after my graduation to be a casual artist at AIR Patna before shifting base to Delhi."
Under the tutelage of Pandit Mani Parsad, Chandan Das learnt music for full five years. Meanwhile, the Amritvani company brought out his maiden ghazal cassette in 1982 on a trial basis which proved to be an instant hit. "Ghazal singer Talat Aziz once listened to it and as desired I met him. I have only been with Music India Company because of his recommendation. After a decade, the T-series contacted me and I never looked back thereafter,"says Chandan Das.
Credited with 30 ghazal albums, scores of Bangla and Hindi songs, two songs in films Halaat, `A0Jaan lara deinge and two TV serials `A0he is busy giving live performances in concerts the world over. Chandan Das says, "My son Namit Das, though a trained singer, however, preferred to be an actor. His films Lafange Parinde and Wake up Sid have already been released and a few others are in the offing". Sharing his views on the rise and fall in popularity of the ghazal, he observes that meaningful poetry lies at the heart of ghazal with various aspects of love and even other themes of socio-cultural relevance. For instance, Jagjit Singh's "Ration ki kataaron mein" reflects the close life realities.
Over the centuries, the ghazal has been the heartthrob of Urdu-knowing classes alone, he maintains, supporting his claim with a couplet with certain aberrations, "Mohabbat ki tarah ghazal ke liye phi kuchh khaas dil makhsoos hote hain, Ye voh nagma hai jo harr saaz pe gaaya nahin jaata." Only a few can appreciate the aesthetic creation of a poet like Ghalib or his ghazals `A0while every one bursts into dancing for "Munni badnaam hui". Lamenting the piracy boom, Chandan Das further rues the low-key promotion of the ghazal genre and ghazal maestros. He agrees that `A0ghazal singing is tough and needs understanding of poetry and classical music but we must groom and encourage young singers. Seeing that there is no future in ghazal singing as a career, they fall to the lure of TV music `A0reality shows in the hope of becoming crorepatis overnight. He says, "These shows have at least created an awakening for music but the companies are not interested in promoting the participating singers but only in rising TRP ratings."
Chandan Das is of the view that TV and music companies are controlled by non-musical persons with little respect for our cultural heritage. Even though TV channels are mushrooming, there is no channel exclusively for ghazals and classical music.