Witness to an era
Reviewed by Balwinder Kaur
In The Name Of The People
Reflections on Democracy, Freedom and Development
By K.R. Narayanan. Penguin/Viking.
Pages 264. Rs 599.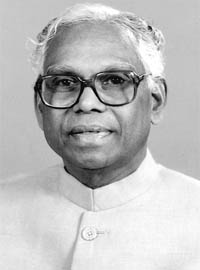 The highest office in the country places a man on a pedestal. The public knows K.R. Narayanan as the President of the nation, but few have a real understanding of who he was both as a man and a leader. What better way is there to get the sense of a man than through his words and deeds. In The Name Of The People is a collection of articles, speeches and various other writings by K.R. Narayanan penned over 47 years, allowing the readers to form their own opinion of the man; to judge his decisions and actions having seen their consequences. These are the words of a statesman; chronicling his rise from journalist to civil servant and from politician to President.
The vantage points are many and varied yet there is a consistency of vision and a dedication that is unwavering. K.R. Narayanan made the most of the opportunities of equality afforded to him by India's Constitution to become the country's first Dalit President and created even more opportunities for others.
The writings in the book are based on the ideals, philosophies and beliefs central to our nation; namely diplomacy, democracy, nationalism and development. Since Independence, India has faced many difficulties and negotiated many twists and turns to reach its present-day status as a respected nation.
With the critical eye of a journalist and experience of an international ambassador, he talks about foreign policy and diplomatic matters that were and still are of great importance. The unique and delicate political climate of Asia poses many diplomatic challenges. The current state of India's relationship with its neighbours requires an understanding of the history shared by these counties. Going as far back as 1966, there is the first hand appraisal of the ramifications of China testing its first nuclear device and the hostility between the two nations. The complex relationship between India and the US is another key political issue discussed; while the countries share democratic ideologies and capitalistic ambitions they have clashed on other fronts. The pitfalls and missteps are acknowledged and discussed.
Narayanan's entire political career shows his dedication to upholding the fundamental principles of democracy and nurturing the spirit of nationalism. Secularism to him was not merely a constitutional requirement but a personal belief. He had a vision for this country based on national unity, tolerance and social justice. 'India has been more of a mosaic than a melting pot, more an example of coexistence than of assimilation, more an experiment of unity in diversity than an extinguishing of diversities in order to create a new unity.' He understood that in order to implement lasting reform education was necessary. Empowerment, both social and economic, hinged upon education; which was the state's responsibility to provide. He praises the vision and intelligence of Ambedkar, Nehru and Gandhi; who were not only great men of great importance to this nation but also his personal heroes.
Narayanan made development a priority; be it human, infrastructural, scientific or technological. He encouraged research and development realising how pivotal science and technology was for the progress of a nation. He also emphasised the need for rural development and low cost housing.
Narayanan was a skilled writer as each piece is uniquely suited to the audience it addresses ranging from university students, the UN assembly and the entire nation. He demonstrates remarkable frankness; successes are celebrated but failures are acknowledged.
These memorable writings, spanning many decades, providing an insight both into the mind of the man who helped shape India and also into its fascinating history. The book traces the journey of our nation from its tentative early days of freedom to its present-day status as a force to be reckoned with.