Star Track
Cashing on tunes
Bollydude Ganeshan has a total retro theme and is set to hit the screens soon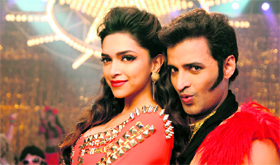 Deepika is singing none other than the foot tapping Bollydude Ganeshan, sung by the versatile Ganesh Hegde, best known for his choreography of Chhammak Challo from Ra.One. After working with Hrithik Roshan, Katrina Kaif, and Bipasha Basu in his videos, his latest video features Deepika Padukone.
Everyone is in for a treat for the first time ever as you get to see the sultry Deepika in a new avatar. As she takes you through action, drama, comedy and dance in this latest video with Ganesh himself in true filmy style. This video is unique as it takes you back into the retro time. This Dum Maaro Dum girl says, "When Ganesh made me hear the song, I thought it was very catchy. I think I've liked almost all the songs in the album but I think Bollydude Ganeshan really takes the prize. I think what is more exciting is the concept with which we've shot the video. He wanted something different and we've gone with this whole retro feel. I was actually very impressed when I saw the final product because when you shoot with a lot of effects and work you can't really make out what it's eventually going to look like but I think he's really put together something almost like the Austin Powers movies for the first time ever!" Catch the funky video on your television screens soon!

What is wrong in Priyanka's life?
Priyanka Chopra is finding herself in a sea of controversies. We list a few...

No friends
She recently bumped into a rumoured former beau Shahid Kapoor at the awards in Macau but she ignored him completely. They used to be friends and then had a love-hate relationship and now they don't even talk to each other.
Link-up rumours
The link-up with SRK has got her into a lot of trouble. It seems Gauri doesn't like her one bit and she isn't invited to parties. Even Hrithik left her out of the Agneepath bash. The star wives who are Gauri's friends don't talk to her.
Drama queen
There are rumours of Priyanka throwing tantrums on the sets of Barfee and turning up very late for interviews and events. She has even kept her co-stars waiting.
Not again
Priyanka was part of Dostana, a bonafide hit and now Agneepath, a blockbuster. However, Karan Johar is in no mood to sign her for any other of his productions.
Filmy life
Priyanka is currently shooting Barfee and Krishh 2. She has completed Teri Meri Kahaani and has not signed anything new.
On the bright side
Priyanka is focusing on her singing career. She has recorded an album in America and has been signed up by Creative Artists Agency (CAA) which is the biggest celebrity management firm in America and in the world. They handle or have handled the likes of Tom Cruise, Julia Roberts, Gisele Bundchen, Heidi Klum, David Beckham, and others. They handle Frieda Pinto too. Priyanka is their first Bollywood celebrity client.

Love or promotion?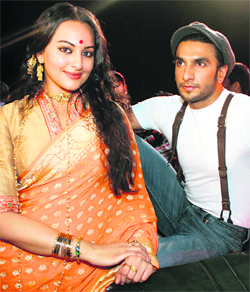 Sonakshi Sinha seems to have given into Ranveer Singh's charms. She had a crush on him and now romance is blooming between them.
After shooting in Dalhousie, they are now shooting in the charming and idyllic locations of West Bengal. In the movie, set in the 1950s, Ranveer Singh plays a man on a treasure hunt and Sonakshi Sinha plays a rich zamindar's daughter. They have already shot an intimate scene in a studio in Mumbai. In Bengal, they have to walk around trees and looking into each other's eyes. This is a perfect setting for their romance.
A source informs us that Sona and Ranveer are staying at a hotel which is far from the set. It takes them two hours to reach and gives them privacy to be together, away from the prying eyes. The crew members are staying at another hotel close to the set. Vikramditya Motwane is on a tight schedule to complete the shooting of this film. However, Ranveer Singh wanted a day off on Valentine's Day and convinced the director to give everyone a day off especially because it is a romantic film. Sona and Ranveer might make their relationship public on Valentine's Day. Ranveer is spending a lot of time in the gym because he needs to look fit and slim. Sonakshi doesn't need to workout at all because women were healthy in those times and Sonakshi has that old world charm. So is their romance for real or is simply promotion for their film? We will know for sure but only later on. The movie releases this Diwali. —HRM

Clooney to turn baby sitter
Hollywood superstar George Clooney has offered to babysit Brad Pitt and Angelina Jolie's six kids if Pitt wins the Best Actor award at the Academy Awards.
50-year-old Clooney, who has earlier said he doesn't want kids, is up against Pitt for the prestigious accolade and the pair have made a bet with each other on the outcome, reported a website.
If Pitt takes home the award for his role in Moneyball, then Clooney will have to take care of all the kids for the night so he and Jolie can go out. But if Clooney wins, Pitt will work a full day as a deckhand on the actor's yacht in Italy's Lake Como. Clooney had previously said seeing Pitt and Jolie with their brood has put him off fatherhood for life.
"Even one kid running around my villa makes me nervous, so I'm definitely not a candidate for father of the year! If I need to surround myself with children and feel like I have this big extended family, I can always call Brad and Angie and ask them to stay with me, just to remind me why I'm so happy without kids," Clooney said. — PTI

Living it!
Shah Rukh Khan is now endorsing a liquor brand along with Saif Ali Khan. Shah Rukh Khan is known for being larger than life.
Endorsement time: Shah Rukh Khan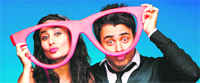 On a roll...
Ek Main Aur Ekk Tu has opened to positive reviews and pretty full houses. Karan Johar is on a roll! How great is that!

No dates for Channing...

Hollywood actor Channing Tatum says he has never been on an official date in his real life. The 31-year-old, who has been married to Jenna Dewan for more than three years, said he went on his very first date in new movie The Vow, reported a website. "Whenever I've been on a date it's always been with someone I already know or that I've hung out with anyway. I've never walked up to a girl with some cheesy line and asked her on a date. That's what I would call a proper first date between two people who don't know each other and I've never done that," Tatum said. — PTI

Miss fit

Abhay Deol is not doing another film with Sonam Kapoor, which is scheduled to be directed by Rajkumar Santoshi. That is because the film's schedule and script are not in place and Sonam has not committed either.
In memory of…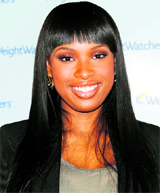 Singer-actress Jennifer Hudson will pay a fitting tribute to Whitney Houston at the Grammys tonight. Houston, who died on Saturday at the age of 48, was a six-time Grammy Award winner.
Grammy executive producer Ken Ehrlich announced that Hudson will be a part of the dedication that will air during the show tonight, a publication said.
Houston was found dead at the Beverly Hilton here at 4pm, a few hours ahead of the traditional pre-Grammys dinner in the same hotel. "Our plan at this point, I've asked Jennifer Hudson to come. We're really, at this point talking about what she's going to do, but it will be something respectful," Ehrlich said.
He added that he had already gone through the script for the telecast and made some changes. "There are some shifts we wanted to make script-wise that probably make it a little more appropriate to what's happened. It's not going to be a full-blown tribute, to me that feels like it's too early, it's too fresh at this moment," he said.
The R&B singer was found dead at the Beverly Hilton Hotel on Saturday at 3:55 pm. Emergency crews called to the scene tried to resuscitate her in the hotel room on fourth floor.
At a press conference, Police Lt Mark Rosen added that there were "no obvious signs of criminal intent" and that the cause of death was being investigated. She was due to make an appearance at the Clive Davis pre-Grammy gala. Over the span of her career, Houston sold more than 170 million albums, singles and videos, and won two Emmy, six Grammys, and 30 Billboard Music Awards. — PTI