M A I N N E W S
Pitroda's pill for Rlys: Cash flow, PPP model
Girja Shankar Kaura/TNS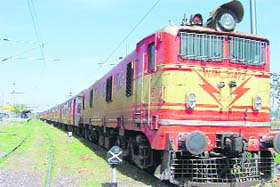 New Delhi, February 27
Sam Pitroda, Adviser to the Prime Minister, and his panel has not painted a very rosy picture for the country's lifeline, the Railways.
After the Anil Kakodkar committee report on safety which sought Rs one lakh crore for upgrading rail facilities, the Pitroda panel on railway modernisation has said the organisation needs Rs 8.23 lakh crore over the next five years to give it a complete makeover. The Railways requires a gross budgetary support of Rs 2.5 lakh crore, which is around 30 per cent of the total finances needed to get it on par with global standards.
Besides pointing to the financial needs of the Railways, the report, which was handed over to Rail Minister Dinesh Trivedi today, stresses on major overhauling of the signal system, tracks and locomotives.
The committee has also recommended a dividend waiver for the Railways to save the national transporter from collapse. Over five years, Rs 24,000 crore can be made available through waiver of dividend, it says.
This is not the first time that suggestions for modernising the second largest rail network in the world have come. A lot would depend on how many suggestions of the expert committee are accepted by the government and how far would be the latter willing to give financial support to the public sector behemoth.
The Pitroda panel also suggested the sources from which the Railways could generate funds for its modernisation. For the total funding of Rs 8,22,671 crore, 2,50,000 crore would come from Gross Budgetary Support, Rs 2,01,805 crore from internal generation, Rs 1,01,000 crore from leasing and borrowings, Rs 2,29,024 crore from public-private partnerships, Rs 24,000 crore from dividend rebate and Rs 16,842 crore from Road Safety Fund.
Incidentally, the Parliamentary Standing Committee on Railways has already written to the Prime Minister and the Finance Minister seeking more Central funds. The report has suggested constitution of a railway tariff regulatory authority.
While suggesting a major technology upgrade, the committee said to ensure that the Railways do not have to look abroad for newer technology, special courses should be introduced at IITs and IIMs. Also, the existing training set-up should be reviewed and restructured. The panel also suggested that the Railway Board should be re-organised. It suggested the development of PPP models and policies to attract investment to augment core capabilities such as stations, high-speed lines, coach manufacturing, captive power generation and renewable energy projects. It suggested establishing an Indian Institute of Railway Research with Centres of Excellence.
Minister rules out privatisation
Rail Minister Dinesh Trivedi, who received the report on Monday, ruled out any possibility of privatisation. "The Railways will remain 200 per cent with the government," he said.