M A I N N E W S
Jat quota deal falls flat, stir to intensify
Protesters threaten to block rail tracks
Raman Mohan/TNS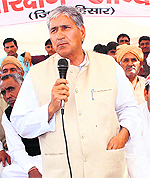 Jat leader Dharampal Chhot addresses protesters at Ramayan village near Hisar. Tribune photo: Manoj Dhaka
Hisar, March 4
The agreement reached between the government and khap representatives on ending the pro-reservation protests by Jats fell flat on its face today following a no-show by khap leaders at Ramayan village, near here. The protesters have threatened to block rail tracks at Mehuwala, near Fatehabad, and Gajuwala, near Narwana, from tomorrow.
Khap leaders were supposed to address the protesters at Ramayan at 11 am. The protesters kept waiting for them but khap leaders failed to turn up. Around 3 p.m. Jat leaders spearheading the protest met under the chairmanship of Dharampal Chhot and decided to intensify the agitation from tomorrow.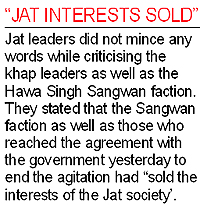 While addressing the protesters, their leaders did not mince words while criticising the khap leaders as well as the Hawa Singh Sangwan faction. Many prominent protesters said the Sangwan faction as well as those who reached the agreement with the government on Saturday with the government "sold the interests of the Jat society."
The crowd at Ramayan swelled today as angry members of the community voiced their opposition to the agreement. Women were present in large numbers. The protesters chanted anti-government slogans throughout the day.
The mood at the protest venue was clearly aggressive. The protesters were hoping that khap leaders would force the government to announce reservation for the community in government jobs. The khap leaders apparently sensed the mood and chose to stay away.
Today was the 14th day of the protest. Since February 19, rail services have remained suspended. The protesters have been squatting on the track.
Spokesman for khap leaders Sube Singh Samain said all khap leaders would meet protestors at Ramayan tomorrow.