M A I N N E W S
TN Govt gives go-ahead to Kudankulam N-plant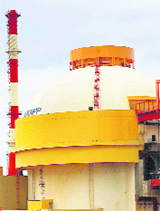 Chennai, March 19
Ending the eight-month uncertainty, the Tamil Nadu Government today gave its nod to the controversial Kudankulam Nuclear Power Plant, a move that could give much respite to the power-starved state.
Meeting a day after the bypoll to the Sankarankoil Assembly seat in Tirunelveli district where the plant is located, the state Cabinet led by Chief Minister J Jayalalithaa decided to go ahead with the Indo-Russian joint venture, which ran into trouble after locals protested against its commissioning, citing safety concerns.
SP Udayakumar, convener of the People's Movement Against Nuclear Energy (PMANE) that is spearheading the protests, described the AIADMK government's decision as "unfortunate" and said the protests would continue even as some of them were arrested.
In a move aimed at mollifying the locals, government also announced a Rs 500 crore special development package for the area to construct houses, coldstorage facility for fishermen and laying of roads.
"In accordance with (today's) decision, immediate steps will be taken (to facilitate commissioning) of the plant," Chief Minister Jayalalithaa said. She also sought the cooperation of political parties and all concerned to immediately resume work at the plant, stalled following protests since September 2011.
The first two units of KNPP capable of producing 1000 MW each are almost complete. As on Jan 2012, work on the first unit was 99% complete and 94.6% in the second.
DMK chief M Karunanidhi, who strongly batted for early commissioning of the plant, had slammed Jayalalithaa for her 'silence' and wondered whether she had any intention to work for commissioning of the plant.
In a five-page statement, Jayalalithaa dwelt on various measures to allay the fears of the locals on the safety aspect outlined by the central and state-appointed teams of experts which had given a clean chit to the project. — PTI
5 activists held, Udayakumar on fast
Tirunelveli: Cracking down on activists demanding the closure of the plant (in pic), five functionaries of the People's Movement Against Nuclear Energy were arrested on Monday. PMANE chief convener SP Udayakumar also began an indefinite fast demanding closure of the plant.