M A I N N E W S
Bypolls spring surprises
Cong scores in BJP bastions of K'taka & Gujarat, jolted in stronghold Andhra
Anita Katyal
Our Political Correspondent
New Delhi, March 21
Having been routed in the Andhra Pradesh bypolls, the beleaguered Congress today drew comfort from its victories in the BJP-ruled states of Karnataka and Gujarat where it scored over its arch political rival. Similarly, the grand old party was also encouraged by its win in Kerala as the Congress-led UDF government has a wafer-thin majority.
On the other hand, the BJP sought solace from its lone victory in Andhra Pradesh where it succeeded in opening its account in a state where it has negligible presence. While putting up a brave face about the Andhra Pradesh outcome, the Congress was clearly pleased with its peformance in Karnataka and Gujarat.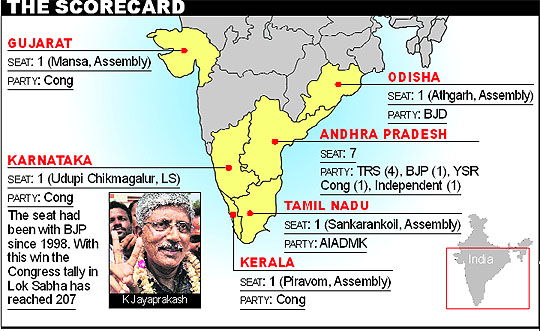 The party's victory at the Mansa Assembly seat of Gujarat was a comfort as BJP Chief Minister Narendra Modi has acquired an air of invincibility. Coming ahead of the Assembly polls, which are due later this year, senior BJP leaders admitted that this result was a setback as this seat had been held by their party for the past four terms.
The Congress believes today's result indicates that the Modi magic is on the wane and that the party can give the BJP strongman a run for his money in the coming elections.
The Congress victory in the Karnataka's Udipi-Chikmanglur Lok Sabha constituency has forced the BJP to rethink its decision on reinstating ousted Chief Minister BS Yeddyurappa, who has been leading a revolt in the state.
Not only has this result shown that the BJP leadership can ill-afford to ignore Yeddyurappa, it has further undermined present CM DV Sadananda Gowda's position as this seat was held by him before he gave it up to take on the top job.
Although the BJP in Karnataka has been in the throes of a crisis for over a year, the Congress had not been able to get its act together because of the disarray in its state unit.
Today's victory has come as a shot in the arm for the Congress as it sees the result as a clear indicator that it can emerge as the preferred choice of the people.
"After 18 years, we have won this seat. It is a reflection of governance of the BJP in the state," Corporate Affairs Minister and senior Congress leader from the state Veerappa Moily remarked, adding confidently that the Congress would defeat the BJP.
Although on expected lines, the results of the Andhra Pradesh by-elections have come as a wake-up call for the Congress as the verdict has reaffirmed that the party has ceded space to the breakaway YSR Congress and the Telangana Rashtriya Samithi (TRS), which has been leading an aggressive campaign for the bifurcation of the state.
Riding on a strong public sentiment for a separate state of Telangana, four TRS nominees and an Independent candidate backed by it won in the bypolls held in seven Assembly segments in Andhra Pradesh.