M A I N N E W S
Asked Gen to act on bribe offer, but he didn't: Antony
Vibha Sharma/TNS
New Delhi, March 27
Defence Minister AK Antony today corroborated the Army Chief's allegation of a Rs 14-crore bribe offered to him by Lt Gen (retd) Tejinder Singh, but blamed Gen VK Singh of "inaction" in the matter.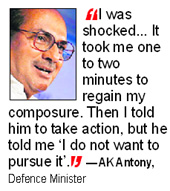 Making a statement in the Rajya Sabha, Antony mentioned Lt Gen (retd) Tejinder Singh by name and said he had asked the General to act, but he did not want to pursue the matter for unknown reasons.
This, and the assertion that he himself could not act as there was no written complaint from the Chief were the explanations that the Opposition BJP refused to buy.
"Is this an issue on which both of them should have put blinkers on their eyes and not inquired into the matter at all? Then we are learning to live with corruption," Leader of Opposition Arun Jaitley wondered.
But all that Antony offered as explanation for his "inaction" was that he acted on his judgement. "If I am wrong, you may punish me. I think I have done my best," he said.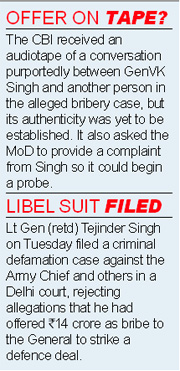 But the BJP also extended complete support to Antony on military preparedness, procurement and modernisation. Also urging that the matter be settled fast, Jaitley said "Over the last few months facts, which have been coming out in public domain are indeed disturbing... issues which should be settled in closed doors are now becoming a matter of unnecessary public debates, which in subject of armed forces is to be avoided".

While supporting Antony, Jaitley's colleague SS Ahluwalia asked for terms of reference of the CBI probe.

Earlier, recalling the incident through a sentimental speech that started with a promise that he would "say the truth, nothing but truth", Antony admitted that General VK Singh had told him of "one retired General Tejinder Singh" meeting him and offering the Rs 14 crore bribe.

"I was shocked... It took me one to two minutes to regain my composure. Then I told him to take action, but he told me 'I do not want to pursue it'. I don't know why he did not want to pursue it at that time," Antony said. "This happened more than one year ago… that is my memory. Exact date they (Army officials) know

because no one can meet the Army Chief without appointment," he said of the General's allegation that he was offered a bribe for consideration of "sub-standard" vehicles and had informed the Defence Minister about it.

Asserting that he would not compromise on the issue of corruption as he had fought against the evil throughout his life, he said: "If I am wrong, please punish me. All through my life I fought against corruption in all positions I held. I am for moderation not for corruption. I have ordered many CBI probes into land scams in the Army."

Meanwhile, the Congress offered a guarded response on the controversy over the Army Chief's allegation. Party spokesperson Abhishek Singhvi said the "right tradition and convention" established in political parties is "not commenting on Army and defence matters", especially something concerning the Army Chief and hence it is incumbent on Congress not to comment. (With PTI inputs)