M A I N N E W S
Busy Farooq gives NC reins to Omar
Dinesh Manhotra/TNS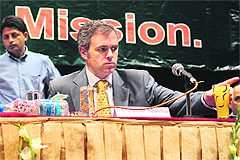 J&K Chief Minister Omar Abdullah during a function in Jammu on Saturday. Tribune photo: Inderjeet Singh
Jammu, April 7
In a move seen by the Opposition as well as coalition partner Congress to perpetuate family rule in the National Conference, Chief Minister Omar Abdullah was today appointed as the party's working president.
In a hurriedly called press conference, Union Minister for Renewal Energy and party president Farooq Abdullah named his son for the party post. "Being a Union Minister, I am busy in the national politics, so I have decided to make Omar as the party's working president," Farooq said. "Omar has grown much mature to handle the party affairs," he said.
NC sources said the move would strengthen and revive the party at a time when local bodies' polls are round the corner. Critics, however, said it was an attempt to deflect "public criticism" of the party following the JKCA "scam" and the death of an NC worker last year after he was allegedly beaten up by the police for taking money for Legislative Council seats.
"This is no politics…but a family reassertion," said opposition PDP's chief spokesman Naeem Akhtar. A senior State Congress leader requesting anonymity said all the top posts in the NC were held by the Abdullah family. "It is because of this approach the NC has lost the ground-level support. This would be reflected in the future elections," he said.
Omar was the party chief between 2002 and 09. The period was tumultuous for the party as it lost the assembly polls in 2002. In 2009, Farooq again took over as the party president.Major changes in the NC were announced today, although Farooq's cousin Sheikh Nazir Ahmad continues to be the party's general secretary. Farooq's younger brother Mustafa Kamaal has been appointed as additional general secretary.Kamaal was earlier made additional general secretary and spokesman for the party, but he was sacked after his "provocative" statements against the Congress.