Winning marks-for-sports game
With EQ in place of IQ and grades in place of marks, the big question in India is, can sports be on a par with academics in schools? This is an issue that is being keenly debated by academics, government and opinion makers, writes Swati Rai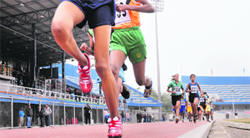 why and how do sports help a child in developing a wholistic personality? "Sports should be promoted in schools not only to overcome lifestyle diseases like obesity and diabetes but also because of the many conflict-resolving life skills it teaches a child," says Mona Singh, Principal, Guru Nanak Public School, Ludhiana.
People happiest@33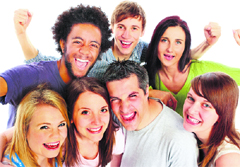 THE happiest part of life for most people is when they are at the age of 33, according to a survey. Seven out of 10 over the age of 40, polled for Friends Reunited, picked the year they turned 33 as their most contented and rewarding. More than half (53 per cent) said life was more fun, while 42 per cent felt more optimistic about the future. Life seemed stressfree for 38 per cent and 31 per cent thought that was the time their family was closest together.
Summer sonata in Kasauli
It's the natural world at its best. With a nutrient-rich top soil, exotic plants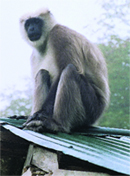 and multi-hued butterflies, the upper reaches of that Himalayan ridge, now girdled by the Kasauli township, are a marvel
NOT far from the tri-junction of Haryana-Punjab-Himachal, arises in one sweep a 2-km long north-south mount Kasauli at approx 6,000-ft above sea level, which blocks the viewers'northwards horizon, totally. That topographical setting leaves one astounded, of the magnitude of the force of collision, when millennias ago the sub-continental "plate" dashed against the Asian mainland, buckling the plains upwards, leading to the creation of the Great Himalayan range.

Large-sized langoors are found on the Kasauli ridge
(Left) Every inch is sheltered by rich, mixed stands of deodar and oak trees, with pine thrown in-between for good measure , (right) Buildings of the Raj era dot the landscape. Photos by the writer
Holy confluence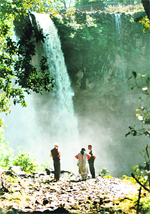 Amarkantak, the birthplace of Sone and Narmada rivers in Madhya Pradesh, is much more than a religious trek
Hugh and Colleen Gantzer
They are the most powerful siblings in India. One dominates 54,000 sq km of terrain; the other's reach stretches over 93,000 sq km. The life-giving Sone and Narmada rivers have, for millennia, been worshipped as omnipotent deities. No one, however, had told us that they are, in fact, twins born out of the same geological womb in the Vindhya Mountains where North India ends and South India begins. We discovered this for ourselves when we visited Madhya Pradesh's unassuming and, till then, green, town of Amarkantak.

Narmada thunders down a 45-metre cliff

| | |
| --- | --- |
| | |
Bang on target
Gagan K. Teja
After registering their names in the best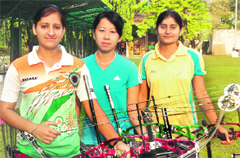 teams of the country, Punjab women archers are all set to make their presence felt in the international arena with two of them getting selected to represent India in the first and second stage of the World Cup 2012 that will be held at Shanghai, China, from April 10 to 15 and Turkey from May 1 to 5, respectively. Currently attending a camp at the NIS, Kolkata, Gagandeep Kaur and Parveena will be two out of the four archers who will compete in the women's compound event there.
Women archers Gagandeep Kaur, P. Lily Chanu and Parveena are all set to represent India in World Cup 2012 at Shanghai, China

Can sports be a subject?
M.S. Unnikrishnan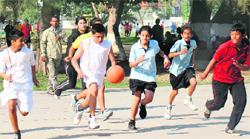 The debate of including sports as a compulsory subject in schools has been going on for the past several years, particularly after the 1982 Asiad in Delhi. The demand has become forceful after India successfully hosted the 2010 Commonwealth Games in Delhi, bagging a host of medals. Experts on the academic front in Delhi feel that sports has become a viable career option for students.

It's high time we give sports its due
One-film wonders
Some actors are unable to sustain themselves in the film industry despite
their debut film being a hit at the boxoffice
Shoma A. Chatterji
IF you are a couch potato and watch Parvarish on Sony TV these days, you might recognise the slightly bald actor Vivek Mushran who made his debut in Subhash Ghai's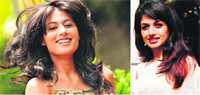 blockbuster Saudagar (1991). The success of the film led to other films but Saudagar ran because of Dilip Kumar and Raaj Kumar dominating screen space and Vivek Mushran remained an also-ran that impacted negatively on the boxoffice returns of his later films. He, however, carved out a successful career on television.
Chitrangada Singh, who got a good break in Sudhir Mishra's Hazaaron Khwaishen Aisi, is consoling herself with modelling assignments for television (Left) and Bhagyashree was not able to cash in on the success of Maine Pyar Kiya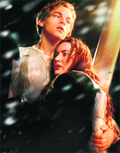 Here comes Titanic-3D
After 15 years, cinema buffs in India have been able to relive their Titanic moments on the big screen as the makers of the Hollywood blockbuster have re-released it in 3D, coinciding with the 100th anniversary of the ship's tragic sinking. Producer Jon Landau, along with Fox Star Studios India, re-released the Leonardo DiCaprio-Kate Winslet-starrer in 3D in India on April 5 in English, Hindi, Tamil and Telugu.