Sunny days
Three decades down the line, Betaab Sunny is a man comfortable in his own space. The actor, director, producer is happy doing 'his' kind of work in one of the biggest industry of the country.
Music beyond boundaries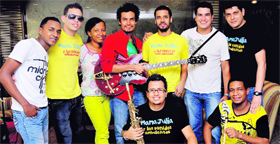 Take it for granted. When it's a band from Colombia that lands up as a result of cultural endeavour and has nine artists on board, fusion music has got to be part of the package. Never mind the half jet-lagged team and half non-conversant in English, clueless about Bollywood, nothing is still lost in translation!

tuned in: Members of the band Mama Julia

Veena's big dream
If a guy has characteristics like Amitabh Bachchan, she will marry him, says Pakistani actress Veena Malik, who will hunt for her ideal man on reality show Veena ka Vivaah.
Over the TOP
Fashion changes quickly and that is what we love about it! We have barely filled our wardrobes with the latest style and here we have summer 2012 catwalk trend on femininity and glamour.
Par Excellence
Fix the slice
The slice is one of the most common problems in golf. There are more slicers on a range trying to iron out their problem than hook players. The slice apart from its curvature also loses distance while the hook travels longer as the ball ends up rolling a lot.
Stress buster
Cruise through stress
In today's world where stress is scaling high every moment in everyone's lives, stress management is the need of the hour. Every moment of our lives should be spent rejoicing, or at least in a stress free environment and it is up to us to create a stress free environment.
Luxury's new address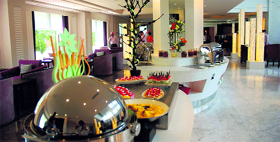 One thing that definitely puts this new luxury hotel in a position of advantage is its location. Right in Sector 17, the newly opened Park Plaza, 59th hotel by the Sarovar group, is a premium, full service business hotel. On Monday, actor Sunny Deol inaugurated the hotel that opened up 85 rooms and 24-hour coffee shop - Cinnamon. The hotel is ready with most of the infrastructure, but trials are on and various facilities will open at different stages.
Touch of class
Now, there is an affordable luxury brand for executive and business class people in India. Pinellii, an Italian luxury brand has all plans in line to open up stores in North India, including Chandigarh, Panchkula, Ludhiana, Shimla, Amritsar, among others.
The 'in' side
Wash in style
Having a separate utility room is a blessing but unfortunately these are the rooms that keep getting cluttered no matter how hard you try to organize them. Here are a few tips you must keep in mind while designing the utility room-
STAR TRACK


Publicity gimmick


All single and ready to mingle


From real to reel


Salman has another fan


No hard feelings


In Adele's neighbourhood


The next Barbie doll


More weightage
chatter box


Movies on Krystle's list


It's magic


The countdown begins...


Mutual admiration club