Hospitality
On a hospitable turf
With its big bucks and a wide variety of courses and careers, the thriving hospitality industry is an attractive option after Class XII even if you donít have high grades. The industry offers many options, both in what you can do and where you work. A charming personality and passion to serve and help guests will take you far in this field.
Gauri Chhabra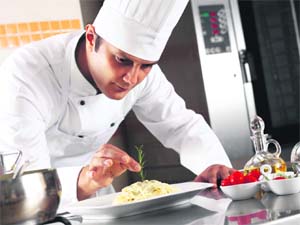 Big Money: The hospitality industry contributes a significant amount to the economy of the country
Thinkstock photos/Getty Images
Atithi devobhava ó Guest is like God. This is the nucleus around which the entire hospitality and tourism sector revolves. Travel and hospitality is a competitive and service-oriented industry. So those eyeing an opportunity in this segment should be ready to face challenges, adjust to change, and most importantly should be good communicators.
Tourism is currently one of the most profitable industries and has created more than 20 million jobs in India. There are undergraduate courses in both hospitality and tourism being provided in various institutes across India. These courses are offered as per the strict guidelines of the Ministry of Tourism and the AICTE.
The hospitality industry contributes a significant amount to the economy of India. Students are viewing this industry as a goldmine. A degree in hotel management will be able to provide you with lucrative career opportunities for a long time.
Elaborate course
Though there are many courses available, one should be sure of oneís area of interest before taking a plunge into this field. Courses are available at all levels, including certificate, diploma, bachelorís and masterís.
Apart from the general foundation courses, specialised programmes such as diploma in bakery and confectionery; diploma in housekeeping; diploma in front office; diploma in food and beverage service; diploma in food production; certificate course in hotel and catering management; craftsmanship course in food and beverage service and food production; post-graduate diploma in accommodation operation and management; bachelorís degree in hotel management; bachelorís degree in travel and tours; masterís degree in hospitality administration; masterís degree in travel and tourism and many more, are offered by various government and private institutes all over the country.
Getting there
Class XII pass-outs can pursue a diploma or bachelorís degree programme in hotel management to get professional training. Most hotel management institutes test students through a written examination followed by a group discussion and interview. Final year students can specialise in their area of interest and aptitude like the front office, food and beverage, housekeeping or food production etc.
Operations, engineering, security, marketing, public relations finance and IT are other areas of specialisation.
Those seeking an entry into the field can either join a travel agency or a tour operating company or take up a position in a government department or corporation. New entrants are given on-the-job training.
India has some of the better hospitality colleges in the world. With big names in the hotel industry such as Oberoi, Taj, WelcomGroup and Merit Swiss, which have their own training wings, students have a good platform to learn on the job and hone their skills under the best professionals in the hospitality sector. These training hotels are usually regulated by the National Council for Hotel Management and Catering Technology (NCHMCT) and the undergraduate degree is awarded by the Indira Gandhi National Open University (IGNOU).
The region has a number of good hotel management institutes offering a wide array of courses. Dr. Ambedkar Institute of Hotel Management, Catering and Nutrition and Chitkara School of Hospitality in Chandigarh, Sikkim Manipal University, Ludhiana, Lovely Professional University and Indian Management Training and Research Institute, Jalandhar; and Amity School of Hospitality, Noida, are some of the institutes in the region.
Many faces of hospitality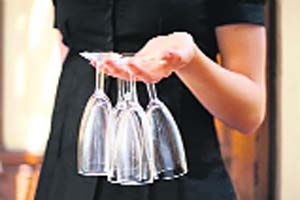 After graduating from hotel management institutes, there is a wide range of career options available.
Hotels: One can get placement in different categories of hotels ranging from Indian chain of five-star properties such as Taj, Oberoi and Welcome group, to an international chain like Hyatt, Sheraton etc. One can get jobs in different departments i.e. Front Office, House Keeping, Food and Beverage Service and Food Production, according to their skill and knowledge and their interest. One can also make a career in various restaurants.
Airline Industry: The airline industry is also a good option for hotel management students. One can join as an air hostess or flight steward. One can also join as ground staff or as public relationship officer. Most of the airlines however, have their own training programmes for employees.
Retail Sector: The retail sector has a wide range open for the graduates of hotel management. It includes malls, back office jobs, joining as receptionist in corporate offices, hospitals and the BPO industry.
Teaching: Teaching can also be an option; they may join one of the IHMs or private colleges after nearly one year of experience depending upon their academic performance. Initially, they may join as assistant lecturers, and within two years of teaching experience, they are eligible for the post of lecturers.
Entrepreneur: Another option is opening own restaurants or working as consultants for building up hotels or restaurants. They can also take contracts for organising theme parties.
CAREER CURSOR
Lucrative pay-packages and opportunity to meet new people every day are among the major attractions of this field.
Starting from the top-level management positions to the service staff openings, the hospitality sector has rainbow of choices as far as work profiles are concerned. One can be a management trainee, front office executive, ticketing manager, tour operator, customer relations executive, marketing/sales executive, kitchen manager, house-keeping manager and catering officer or chef.
Courses
Bachelor of Hotel Management (BHM)

Bachelor of Science in Hotel Management

BA/BA (Hons) in Hotel Management

BBA in Hotel Management

Certificate Courses in Hotel and Catering Management

Diploma in Hotel Management

Craftsmanship courses