MC's garbage disposal project under HC scanner
Saurabh Malik
Tribune News Service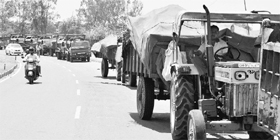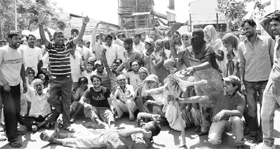 (Above) Garbage collection vehicles being stopped at the entrance of the processing plant after the protest by door-to-door garbage collection workers in Chandigarh on Friday. (below) Door-to-door garbage collection workers protest at the main gate of Jaypee garbage processing plant near Dadu Majra on Friday. Tribune photos: Pradeep Tewari
Chandigarh, May 4
Chandigarh Municipal Corporation's pilot project, which was severely resisted by garbage collectors, has come under the Punjab and Haryana High Court scanner.
Acting chief justice MM Kumar of the Division Bench and justice Alok Singh today made it clear that the project launched in Sector 22 would be monitored by the High Court.
The Bench also fixed September 4 as the next date of hearing in the matter to see how effectively the system was operating.
Last September, the High Court had asked the Chandigarh Administration and the Municipal Corporation to give details of the remedial measures it proposed for solving the issue of garbage disposal in the city brought about by improper facilities at the Dadu Majra dumping grounds.
The directions came after an affidavit was filed by the principal of Sanawar Montessori School-11.
In her affidavit, principal Harjeet Sehgal had expressed apprehension that school children could be afflicted by malaria and added that as a result of the carelessness on the part of the respondents, a class IV employee residing within the school premises was "attacked" by the malady.
Elaborating, she said that the High Court during the course of the hearing had verbally suggested that the Sehaj Safai Kendras be cleaned twice a day. The counsel for the respondent Chandigarh Administration and the Municipal Corporation had assured the High Court of compliance. But no action was taken by the respondents on the issue.
In the petition, the school is seeking the removal of the Sehaj Safai Kendra between the Sanawar Montessori School and the Government School in Sector 11.
The development is significant as residents have been staging protest over the dumping of unprocessed garbage at the Dadu Majra dumping ground. In fact, the area residents recently did not allow the MC vehicles to enter the dumping ground recently.
The residents have been saying that the foul smell emanating from the unprocessed garbage was making it impossible to live in the area.
It was also decided that the garbage will not be dumped at the dumping ground. If anybody was found violating the order, strict action would be initiated against the official.
At a meeting, the MC Commissioner had even directed the officials to fix the responsibility of those allowing the disposal of garbage in the dumping ground.