M A I N N E W S
Presidential race wide open as Mamata drives a hard bargain
Meets PM, presses for Bengal bailout
Anita Katyal
Our Political Correspondent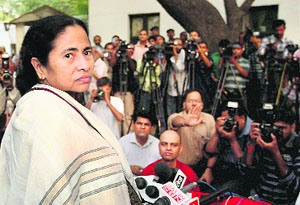 West Bengal Chief Minister Mamata Banerjee after meeting PM Manmohan Singh in New Delhi. — PTI

New Delhi, May 4
While the Centre is examining various possibilities of bailing out debt-ridden West Bengal, its Chief Minister and Trinamool Congress chief Mamata Banerjee made it clear that her support for a UPA Presidential candidate will depend on the ruling coalition's decision on her long-pending demand for a three-year moratorium on interest payments on the state's accumulated debts.
Keeping up the suspense on her choice of Presidential candidate, key UPA ally Mamata Banerjee also held out an indirect warning to the Centre, saying she will wait for a few days for her demand to be met after which she will decide what can be done politically. Consequently, the Presidential race remains wide open.
"I will wait for a few days after that I will decide politically what can be done for my state," she said after a meeting with Prime Minister Manmohan Singh in connection with a financial package for West Bengal. Yesterday, Congress president Sonia Gandhi had met Mamata to discuss the Presidential election but the West Bengal Chief Minister kept up the guessing game and failed to disclose her preferences.


During the last 11 months, I have met the Prime Minister 10 times and Finance Minister 20 times. I am waiting for a few days, after that I will decide politically what can be done for my state.
— Mamata Banerjee, West Bengal CM
"Our position is very clear. No names of candidates have come up so far but we are open. When the Congress give the names, we will give our comment," she said putting the ball firmly in the Congress court.
Well aware that her party's support is crucial for the election of a UPA Presidential candidate, Mamata is using this opportunity to drive a hard bargain with the Centre. She is working in tandem with Samajwadi Party leader Mulayum Singh Yadav whose party also holds the key in the upcoming Presidential race.
With Mamata and Mulayam deciding to work jointly in this election, it was the turn of her arch political rival, the CPM, to reach out to the SP leader today as the race for the President's election is gradually hotting up.
CPM leader Prakash Karat called on Mulayum Singh Yadav today to discuss probable candidates for the Presidential election.
The four Left parties, which held preliminary discussions on the July presidential election, also decided to play the waiting game. Seeking a consensus on the next incumbent of Rashtrapati Bhavan, the Left parties said they would consult other secular parties before taking a final stand in the matter.