M A I N N E W S
India announces cuts in oil imports from Iran
US energy coordinator meets Indian officials
Ashok Tuteja/TNS


india's energy needs explained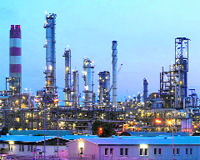 n India explained to the US delegation the long-term projections of its energy needs
n The details included those pertaining to key suppliers of oil, natural gas and the possible external energy sources in Africa, North America and Southeast Asia
n It was pointed out that India was currently importing crude oil from 30 countries
n The US delegation was also told about the incentives being provided on renewable energy sources
New Delhi, May 15
India today confirmed in Parliament that it has substantially reduced oil imports from Iran even as US Special Envoy for international Energy Affairs Carlos Pascual met top Indian officials to discuss alternate sources of crude supplies to this country.
Minister of State for Petroleum and Natural Gas R P N Singh told the Rajya Sabha that Indian companies imported crude oil to the tune of 18.50 million tonnes from Iran in 2010-11 and 17.44 million tonnes in 2011-12. The target fixed for 2012-13 was about 15.5 million tonnes subject to techno-commercial and other considerations.
The announcement assumes significance against the backdrop of the US continuing to nudge India to slash its oil purchases from Iran in view of its controversial nuclear programme. During her visit to New Delhi last week, Secretary of State Hillary Clinton had commended steps taken by India to reduce its dependence on the Iranian oil but underlined New Delhi ought to do 'even more' in this regard.
In March, the US announced sanctions which threaten to shut out importers of Iranian oil from the U.S. financial system unless they make significant and continuing cuts to their purchases by the end of June. Japan and 10 European Union nations have been granted exemption while India and China remain at risk.
Pascual, who arrived here yesterday, led a US delegation, which met a composite Indian delegation led by Jawed Ashraf, Joint Secretary (Americas) in the External Affairs Ministry. The Indian delegation also included officials from the Ministry of Petroleum and Natural Gas, Ministry of New and Renewable Energy Resources, Ministry of Power and the Planning Commission.
The India side explained the long-term projections of India's energy needs, including key suppliers of oil and natural gas and the possible external energy sources in Africa, North America and Southeast Asia. It was pointed out that India was currently importing crude oil from 30 countries spread across different continents. The US delegation was also told about the incentives being provided on renewable energy sources. In the context of these discussions, the possibility of export of Shale Gas in liquefied form from the US to India was also raised.
Pascaul is expected to visit Mumbai tomorrow for talks with ONGC and financial institutions.
India has already told the US that the quantum of crude oil imported by Indian refineries from various sources was decided by them on the basis of technical, commercial and other considerations.
India presently does not expect any shortage or gap in crude oil procurement by Indian refineries. At the same time, however, it is looking at Nigeria, Venezuela and Canada as part of the strategy to diversify crude oil imports in view of the difficulties being faced in buying it from Iran.