M A I N N E W S
Pranab's strengths: Amazing memory, sharp intellect
KV Prasad
Tribune News Service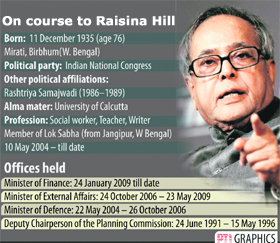 New Delhi, June 15
The over four-decade long journey of Pranab Mukherjee, a quintessential politician gifted with phenomenal memory and sharp intellect, is expected to culminate at Raisina Hill, five years after he set his heart on it.
In the summer of 2007, the Congress party withdrew his name from the list of possible candidates for the presidential elections after the leadership realised that the Government cannot do without him.
Known for his ability to dexterously untangle complex political problems, Mukherjee was virtually indispensable for the Congress-led ruling coalition and dubbed "GoM Mukherjee", for heading 30-odd Group of Ministers.
The inherit acumen to work a way out of seemingly hopeless situations, political or administrative, could have once again proved to be an impediment till Mukherjee, 77, made it known to all those who mattered that it was time for him to move away from the government.
For years, 'Pranabda' or simply 'Dada' to one and all, remained number two in the Union Cabinet, a position bestowed upon him by Prime Minister Indira Gandhi after he joined the Government in 1973 as a Deputy Minister.
Yet, the approach cost him politically in 1984 when after the death of Mrs. Gandhi, he showed inclination of replacing her. For a few years till late 1980s, he remained in wilderness heading the Rashtriya Samajwadi Congress till his re-admission into the Congress.
Since then there was no looking back. He was inducted into the Government by P.V. Narasimha Rao in 1991 as Deputy Chairman of Planning Commission. Barring Home, he is one of the few politicians who has worked in three — Finance, External Affairs and Defence — of the four key Ministries on the North and South Block and could become the second Defence Minister after R.Venkataraman to move to Rashtrapati Bhawan and as Supreme Commander of the Armed forces.
While the Government will certainly stand to lose an experienced minister who has handled various portfolios, the Congress too would find it hard to replace a person who has been singularly responsible for drafting key party documents from Congress Working Committee resolutions to poll manifestoes.
Interestingly, since 1969 when he entered Parliament most of it was spent as a member of the Rajya Sabha. Ironically, the first time he was elected to the Lok Sabha from Jangipur in West Bengal in 2004 he became the Leader of the House, a position he holds after retaining his seat in 2009.
As a parliamentarian he can hold forth on any subject and would be heard with rapt attention be it a brilliant explanation on the relevance of the Rajya Sabha in Parliament to expositions on policy issues. He ability to cut through clutter and go straight to the heart of a subject is amazing.
A voracious reader, Mukherjee takes immense interest in perusing books and publications, especially relating to history. In fact, way back in 1997 when he was in the opposition Mukherjee told this writer how he read with care every day from the pages of history "The Tribune" carried from its archives on the occasion of India's 50th year of Independence.
Known to keep long hours, Mukherjee's study is filled with books and table with magazines and periodicals and it is not unusual for post-midnight callers on telephone to be surprised by the senior politician answering the line personally.
Little wonder that in a middle of an important meeting in his office, a pesky tele-marketing caller had the audacity to do a sales pitch that eventually led to the Government drafting stricter privacy rules. Of course, what the tele-marketing caller escaped was Mukherjee's short burst of anger, which does crop up occasionally even now.
And every day before retiring, Mukherjee writes a personal diary which some day may reveal the thoughts of a leader's long journey from a school-teacher, journalist to the President of India.
Rare distinction
Barring Home, he is one of the few politicians who has worked in three — Finance, External Affairs and Defence — of the four key Ministries on the North and South Block and could become the second Defence Minister after R.Venkataraman to move to Rashtrapati Bhawan

NDA left with not much choice
Anita Katyal
Our Political Correspondent
New Delhi, June 15
With the UPA declaring Pranab Mukherjee as its Presidential candidate today, there are indications that the BJP-led National Democratic Alliance (NDA) may find it difficult to oppose the veteran Congress leader's candidature.
There was no formal word from the BJP though Prime Minister Manmohan Singh did call up all its senior leaders, including LK Advani, Nitin Gadkari, Sushma Swaraj and Arun Jaitley, to seek their support for Mukherjee who commands respect and support cutting across party lines.
Earlier, a meeting of NDA leaders decided to await the UPA's decision before making its next move on the Presidential race. The overwhelming view at the 90-minute meeting, convened at BJP leader LK Advani's residence, was to base its decision on how the differences in the UPA would unravel.
All eyes were on Samajwadi Party Mulayam Singh Yadav as he had emerged kingmaker with his 6 per cent vote share in the electoral college.
Had Mamata and Mulayam charted their independent course, as indicated by them two days ago, the NDA would have rallied around these two parties and supported former President APJ Abdul Kalam's candidacy proposed by the Trinamool chief.
Now that Mamata Banerjee has been effectively isolated after Mulayam ditched the Trinamool Congress chief and Kalam has opted out of the race, the NDA's options are limited.
As it is, there was no unanimity on supporting Kalam or PA Sangma, who is being backed by the AIADMK and BJD chiefs J Jayalalithaa and Naveen Patnaik.
Janata Dal (U) leader Sharad Yadav was among those who was not in favour of backing Kalam.