Burning desire
Kavita Sharma heats the safety pin over a spirit lamp and moves it carefully on a piece of silk cloth; the result is a beautiful motif in the shape of a leaf. The same technique was followed everytime she had to create a pattern, everytime she had to move a bit forward, towards completing her design.

No girlie stuff this!
There is something alluring about pink; maybe that's because psychologically it is known to have a calming effect or maybe because pink compliments most skin tones! For the metrosexual male, pink is no more a feminine colour, but one that is easy to co-ordinate with almost every other hue.

Creative line
Creativity is the outcome of unusual thoughts and this will be showcased by the final year students of the Northern India Institute of Fashion Technology (NIIFT) from different centres at their passing-out show, Anukama 2012, at the Tagore Theatre, Chandigarh, on June 20.
Designer stuff: Students display their creations Photo: Manoj Mahajan


Celeb point
Smile…sets things right
Before you misinterpret, I just want to clarify my stance. I love my country, and I would not trade living anywhere else in the world. I could never imagine marrying an NRI for the simple reason that he would take me away from my desi land, which I love, in spite of everything.
TRENDSETTER
Style file
Being in haute couture is not the privilege of the selected few  who have time and facilities and rather the "look good factor"  now encompasses  young professionals too. They do want to be trendy and groom them selves accordingly. Though professing to be simple Madhurima Arora final year medical student does warrant a second glance.
TROUBLE SHOOTER
Identify your peace zone
I am married in a joint family. My in-laws family is very different from my parents . They are brusque and often rude while my parents are very sensitive and calm people. I am a housewife and though I walk regularly I do not go out much otherwise. I have 16 and 17 year old kids. I have been feeling very alone and sad for many days with no desire to get up. My father suffered from depression once. Could I be having it too?
Master Chef
Say Cheese
The rumblings and grumblings due to the uninteresting summer veggies are quite a handful to handle for a homemaker already hassled with the weather playing truant as  hot spells  refuse to abate . The ubiquitous capsicum now  has a smart name in ' bell peppers and we have teamed  them with broccoli and cheese to give a wholesome dish which besides looking attractive is loaded wit nutrition and won't make you stand long in the kitchen
Kim's moved on
Reality star Kim Kardashian says she has no regrets about her short-lived marriage to Kris Humphries as she learnt a lot from it. The 32-year-old socialite, who ended her 72-day union with the basketball star last October, said she is glad that she experienced the relationship because it made her realise what she does and does not want in life, reported a publication.


Work hard, party harder!
A day after being falling unconscious due to exhaustion, actress Lindsay Lohan was seen partying till wee hours at a club in Hollywood. The 25-year-old, who blamed her hectic work schedule for her recent health scare, reached the club straight from the sets of her TV show Liz & Dick, reported a publication.

Minimum on looks
Actress Neha Dhupia, who appears in a de-glam avatar in upocoming Maximum, thinks that nobody signs a film thinking about the clothes they would wear and the look they would sport in that movie. In Kabeer Kaushik's crime-thriller Maximum, Neha plays the role of Sonu Sood's wife, a home-maker and will be seen wearing cotton saris.
The award goes to a social messenger
He has made a different slot of social relevance for himself when it comes to movie making in Hindi Cinema. And no one has so far been able to come on the same playing level field as film-maker Madhur Bhandarkar, who continues to contribute some of the most entertaining and yet relevant movies of our times.
Vidya has Farhan all excited!
Farhan Akhtar is excited to work with Vidya Balan in his first romantic comedy which is the sequel to Pyaar Ke Side Effects. The original starred Rahul Bose and Mallika Sherawat. Farhan has directed the romantic comedy Dil Chahta Hai but not acted in one because his films have been dramas and thrillers.
Mukesh returns to TV
Mukesh Khanna, popularly known as Bheeshma Pitaahma and Shaktimaan, is returning to TV with a new show on Star Plus' Pyaar Ka Dard Hai. ..Here he talks about his career and roles.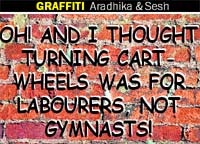 Starry cravings...
Celebrities love junk food! It's a different matter that they indulge themselves on rare occasions as they have to stay fit and trim. Read on to know their favourite treats

Fried fun
Sonam Kapoor: I have a weakness for samosa and jalebi. After my weekends, I have to work-out a little longer.
Spice is life
Kareena Kapoor: I love vada pav and usal-misal, especially from Ramakant on the way to Pune. I love spicy food. Once in a while, I indulge myself!
Western taste buds
Priyanka Chopra: I love pizza and burgers. I have a huge appetite and can eat till I feel tired!
Street side foodie
Shazahn Padamsee: I love all kinds of chaat, especially beach-side pav bhaji and falooda.