Brooding melancholic tale
Reviewed by Aradhika Sharma
Ships That Pass
By Shashi Deshpande.
Rain Tree. Pages 136. Rs 295.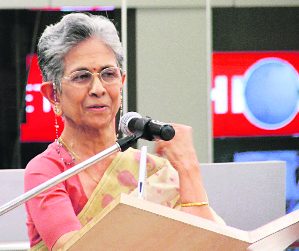 Shashi Deshpande explores the breakdown of communication in relationships

When Shashi Deshpande writes a new book, every lover of fiction, pauses before the book in the bookstores, and at least has a look at the fly leaf. The winner of the Sahitya Akademi Award in 1990 and the Padma Shri in 2009, Deshpande's contribution to English literature has been creditable.
Notwithstanding the fact that this novel first appeared as a serialised crime story in the Eve's Weekly in 1980, a fact that she mentions in the foreword, Deshpande proves yet again that she has what it takes to explore human relationships, this time before the backdrop of a crime setting. However, there is really nothing new in her surmise that it is confusing to be a middle class Indian woman and that is also its chief disappointment. Still, it is interesting reading — gripping in parts; lagging in some.
The setting is in the 1990s. The place is a remote town in India, which gets cut off from civilisation when it rains. And here is where Radhika steps off the train to spend some time with her elder sister Tara and her Government employee brother-in-law, Shaan, before she ties the knot to settle into matrimony with Ghanshyam.
Shaan and Tara had been childhood sweethearts, married for over a decade; but Radhika is shocked to find how distant they had grown from one another and how the dynamics of their relationship had changed. Tara was still grieving over the loss of a child; Shaan was having an affair, which Tara was evidently aware of and then there was Abhi, their teenaged son, a self-contained sort of a boy.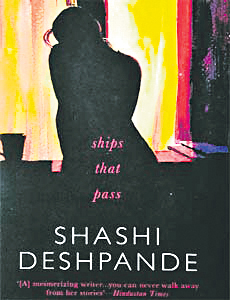 There is also Ram Mohan, the doctor, who shares a very sweet relationship with Tara — one could call it love that has its roots in childhood, which manifested itself in intense sensitivity and caring for the tragic Tara. However, that does not stop Radhika from falling in love with him. This, in spite of the fact that she's engaged to be married to GS.
Because "it is best got out of the way before getting on with the business of life". Ghanshyam has been chosen more for the sound of his name than any other reason.
Once ensconced in Tara's home, Radhika discovers that Tara is beset with a mysterious and debilitating illness. There are mysterious forces at play here because Tara is petrified of Shaan, although it was Shaan who had sent for Radhika in an urgent secret summons since he was worried about Tara. And looming over them like a haunting shadow is the grief of their daughter's death. The atmosphere, light at first, starts getting heavier as the novel progresses.
The end comes on a stormy night when there is a power failure; a gas cylinder left (deliberately?) and then the overdose and death of Tara.
Questions loom: Who has committed the murder and why? Shaan, the obvious suspect gets arrested, but is he the one to commit the crime? Has Radhika committed suicide?
The questions remain unanswered as
suspicions and dark thoughts and fear for the future run rife.
Ships That Pass is a slender book in terms of size, a novella, in fact of 136 pages. The scene building up to the death of the beauteous and troubled Tara is significant, but more of concern to Deshpande is the exploration of how communication breaks down in relationships. Thus, a perfectly good marriage degenerates into a relationship where the partners just don't understand each other and even fear each other's actions and reactions and pass into a state of unknowingness. Just as Longfellow's poem, from which the title has been taken says:
Ships that pass in the night, and speak each other in passing,
Only a signal shown and a distant voice in the darkness;
So on the ocean of life we pass and speak one another,
Only a look and a voice, then darkness again and a silence.