Indian diplomat pens mythological epic
Madhushree Chatterjee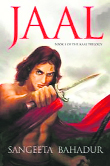 An Indian diplomat in London has written a mythological adventure novel drawn from the vast repertoire of Indian spirituality and metaphysics.
In Jaal, author Sangeeta Bahadur combines laws of matter, the Hindu story of creation, mythology, Vedic philosophy and metaphysics to weave the epic of Aushij, the Lord of Maya (illusion) and Arihant, a young warrior with divine powers. Arihant is both a Taraak (saviour) and a Vinashak (destroyer).
"It is an adventure story. I have created my own mythology. It is completely invented," Bahadur, director of the Nehru Centre in London, told IANS during the book's launch recently.
"I have not borrowed from mythology. There have been authors who are doing these kinds of mythology and re-interpretations. But we (my husband and I) did not want to deliberately project the Indianness. We wanted to tell a powerful story," she said.
In Britain, Jaal earned the rare honour of being released in the House of Lords by filmmaker Shyam Benegal. The novel is the first book in the epic Kaal trilogy, comprising Vikraal and Mahakaal.Bahadur gives her husband Yuresh, her collaborator, his due share of credit.
"The concept and depth were his. I put it together in words over the last nine years with breaks," she said. An Indian Foreign Service officer, Bahadur has in the last 25 years been posted in Spain, Bulgaria, Mexico and Belgium, besides having served in the Ministry of External Affairs and the Indian Council for Cultural Relations.
"This is not my regular kind of writing. It (Jaal) is an epic, more like the Lord of the Rings, rooted in the Vedic concepts of how the world was created. Einstein once wanted to know how did God make the world and from it we made a story," Bahadur said. She then created the villain, Aushij, who spread ignorance and illusion.
"He is the Lord of Maya but he gets caught in his own web. He begins to believe in his myths. Arihant, his counter-force, transcends the illusion. He is sent by the creator as an avatar. He has to fight like a god. There are siddhis (powers) in him which are his strength," she said.
"He is an Indian metaphysical superhero," she said. One hears the echoes of the myth of Kalki — the avatar of Vishnu sent to deliver the world from dark age of Kaliyug to Satya Yug, the age of truth. Bahadur's characters and locales veer from the original myth just when the reader begins to rake his memory searching for the source. — IANS