star track

Bebo's basic fashion
Kareena Kapoor is one of the most stylish superstars in the country. She always turns out perfectly and it is very difficult, if not impossible to not to gaze at her.
She has been a muse for Aki Narula and Manish Malhotra. Bebo surely turns heads no matter what she wears. She always has different looks for different movies and has set trends with Jab We Met, Kurbaan, and other films. We therefore take some stylish tips from the trendy diva.
Quintessential outfit
The most basic wardrobe essential is a crisp white shirt and fitted blue jeans. It looks smart, sensuous and sexy. It can work on for formal and as well as casual occasions. And this statement never goes out of fashion.
Women in black

Black looks great on all women, irrespective of complexion and size. A black cocktail dress, whether long or short, is a wardrobe must-have. It makes you feel sexy and confident too.

Colour world

Assorted, fitted t-shirts in various colours are required too. I prefer plain tees and my favourite colours are pink and blue. DKNY and Junk Food (British) are among my favourite tee brands. The logos on them should be subtle.

Goodnight wear

I love sleeping in cotton pyjamas that are long and comfortable. Soothing colours such as off-white, cream, and white ensure eight hours of good sleep. Keep your night clothes fuss free. Exercise outfits in which you feel comfortable are essential too. Use bright colours here to feel energetic.

Foot fall

Shoes in different colours and types of heels are the most important wardrobe essential! Stilettos turn men on and how! Go all out when you have to buy shoes and buy colours and funky styles. Imagine which dress or outfits will match with the shoes when you are buying them. I love buying YSL, Gina, and Valentino shoes. — HRM



You're beautiful:

Kareena Kapoor

AB deals with flops, the right way

His last few releases have not done well at box office, but Bollywood actor Abhishek Bachchan says one has to deal with failures and move on as no one wants to make an unsuccessful film.

His last release (in January) was Abbas-Mustan's Players, an official remake of Hollywood crime thriller The Italian Job. Despite heavy promotion and an ensemble star cast, Players, one of the most anticipated films of 2012, failed at the box office.

"I think you have to deal with it (flops). Thankfully, you carry on working. It is never nice to talk about it...it is never a pleasant experience. Nobody wants to make an unsuccessful film. Everybody works hard to make a film successful," said Abhishek.

"As an actor I made a conscious decision that I don't want any excuses (for films not doing well). I don't want to say the editor did not do his job properly or this or that person did not do their work properly. I don't want to point fingers at anybody. I want complete responsibility by saying that I did everything that I could do," he maintained.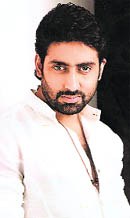 The Junior Bachchan has delivered quite a few flops in the recent past, including Farhan Akhtar's home production Game, Ashutosh Gowariker's Khelein Hum Jee Jaan Sey, Mani Ratnam's Raavan, Goldie Behl's Drona, Aditya Chopra's Laaga Chunari Mein Daag, among others.
However, his performance in films like Paa, Dhoom series, Guru, Sarkar and 'Dostana' have been appreciated.
Asked if he has got his due as an actor, the 36-year-old, who made his Bollywood debut in 2000, said, "I think I was given too much due. I think people think I am a much better actor than actually I am. I think I have lot more to do and improve. I think people are too kind to me." —PTI

Accepting reality: Abhishek Bachchan
Prachi Desai's struggle to stardom
Ruing that outsiders are never taken seriously in Bollywood, actress Prachi Desai has said it is only now that the industry is opening up to her despite she being working for last five years since her debut film Rock On.
"I think the industry is opening up to me. And it is high time it does. I am truly not the person I have been made up to be. I feel that industry can be unfair sometimes. When you are an outsider, people don't take you seriously," said Prachi.
"I personally think you need an extreme push for people to promote you and bring you to a certain level," Prachi said. Prior to Rock On in 2008, Prachi had a successful stint on television with her debut soap Kasam Se being a big hit. Later, a dance reality show catapulted her to stardom which landed her a few offers in Bollywood.
"For the kind of roles I was offered, I was not interested in them. When anybody starts of, you don't want to be doing roles twice your age," the actress said.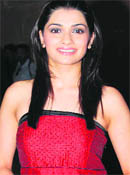 "The reason for being offered roles much older than me was because these are the kind of characters I have done before in television as well. I got it from Rock On...I played a young wife but nobody saw me as funky or the real me. The way I am," Prachi said.
Prachi, a teenager then, played the role of a wife of business tycoon, played by actor Ram Kapoor, in TV serial Kasam Se. In Rock On, she essayed the role of Farhan Akhtar's wife. In Milan Luthria's 'Once Upon A Time In Mumbai', she played muse to Emraan Hashmi. — PTI

Rising high: Prachi Desai
Marilyn Monroe my style icon: Eva Longoria
Desperate Housewives star Eva Longoria says she is a huge fan of late Hollywood star Marilyn Monroe because of her beauty and sex appeal.
Longoria, 37, also said that Monroe's trademark blonde locks and red lips, makes her the ultimate style icon, reported a website. "Marilyn Monroe had that certain something. She never changed her look, and even after her death, that blonde hair with the red lips is still glamorous and beautiful," said Longoria.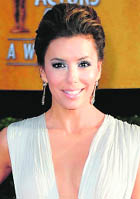 "But it is also what she exuded, she was electrifying and you couldn't wait to see what she did next and who she was with. She just had this essence about her that was beautiful," she added.
Longoria said she personally hates sweating it out in the gym, but she tries her best to maintain her figure.
"I hate working out. I hate cardio, I hate running, I hate the treadmill. I like weights, but the rest of it just has to be done. That is why I have a trainer to make me do it. And I like to get out and about as much as possible, which is easier in Los Angeles, as the sun shines," she said. — PTI

Fan mail: Eva Longoria
Angelina Jolie's brave shots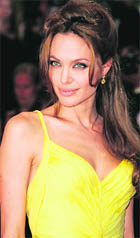 Hollywood superstar Angelina Jolie shot with some fearsome-looking bulls for her latest movie Maleficent.
Jolie filmed scenes in the Buckinghamshire countryside alongside a number of bulls but the animals were professionally behaved reported a publication.
The bull's trainers stood out of shot, barking out orders for them to stand still as Jolie strolled around them.
The 37-year-old was recently pictured sporting a pair of bull horns, fake cheekbones and a creepy cloak for her role as a sorceress in the film. — PTI


Bull ride: Angelina Jolie
Blake Lively's fragrance
Gossip Girl actress Blake Lively has become the new face of Italian fashion house Gucci's upcoming female perfume, Premiere.
The 24-year-old will appear in a short movie directed by Drive helmer Nicolas Winding Refn, and pose for print commercials shot by famous photographers Mert Alas and Marcus Piggott, reported a publication. "In conceiving this fragrance I was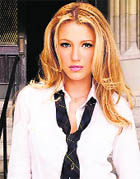 inspired by timeless Hollywood glamour and the iconic leading ladies of Hollywood's golden era. Blake's unique style and charisma brings that allure to life in a very contemporary way," said Gucci creative director Frida Giannini.
Lively, who is currently dating actor Ryan Reynolds, is happy to collaborate with Giannini. "I admire the qualities of the Gucci Premiere woman and feel honoured to represent the fragrance," she said. The actress joins the likes of Evan Rachel Wood, Chris Evans and James Franco, who are all faces of various Gucci scents. Her movie commercial will premiere at the Venice Film Festival on September 1. — PTI

Scent star: Blake Lively
Vampire overdose
Robert Pattinson, who was looking to break away from the film franchise Twilight and graduate from being a boy vampire to a leading man, is being called RIP-Patz as both his movies post-Twilight have flopped badly. The Beekman Theatre on Manhattan's Upper East Side was completely empty for a screening of the film Bel Ami in which the 26-year-old actor stars as a manipulative journalist who sleeps his way up the social ladder.
Not one person had paid to see the movie, which is set up against the backdrop of 19th century Paris, with cinema staff confirming this was not an uncommon occurrence for the film.
"Increasingly Rob is being referred to as RIP-Patz instead of his nickname R-Patz," a publication reported a source as saying.
The actor is apparently unfazed by the hiccup as he is currently soaking up the party lifestyle in LA with girlfriend Kristen Stewart, claiming that they were edgy films that were never going to attract large audiences.
"But his agents at William Morris Endeavor are not so carefree about the situation. Rob has not been terrible in the films but apart from Twilight, he keeps misjudging material," the source said.
"Bel Ami didn't suit him, Cosmopolis doesn't appeal to anyone who is not interested in sprawling examinations of time and nobody remembers Remember Me," the source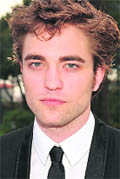 added. The source said that Pattinson's career post-Twilight does not inspire confidence in the tinseltown.
"But both these projects have been thrown into jeopardy as a result of his underwhelming time at the box office."
"Robert needs to emulate Andrew Garfield and Daniel Radcliffe [who Pattinson starred with in Harry Potter and the Goblet of Fire] who are examples of young British actors that crossed over to become leading men or risk being out of the game by the time he's 30," the source said. —ANI

Fixed image: Robert Pattinson
Stacy Keibler is not preggers
George Clooney's girlfriend Stacy Keibler has denied reports that she is pregnant with the Hollywood superstar's child. The former professional wrestler has been the subject of speculation since pictures emerged that seemed to show a baby bump, reported a publication.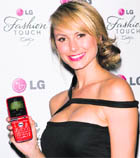 But the 32-year-old beauty insisted the rumours were "100 per cent false" and posted a picture on Twitter to show she is completely bump free.
The blonde star showed off her six-pack as she posed in white crop-top and big shades. Keibler and Clooney are currently on a romantic break to celebrate their one-year anniversary in Italy.—PTI

False alarm: Stacy Keibler