M A I N N E W S
Hooda minister booked for suicide of ex-air hostess
MoS (Home) Gopal Kanda offers to quit
Geetanjali Gayatri
Tribune News Service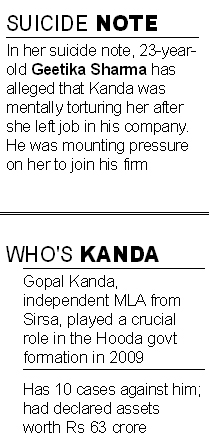 Chandigarh/Delhi, August 5
Haryana Minister of State for Home Gopal Kanda was in the dock today after a former woman employee of his now defunct airline MDLR committed suicide accusing him of "mentally harassing" her.
Hours after he was booked by Delhi Police, Kanda offered to quit to facilitate a "fair investigation" and save the Congress-led Bhupinder Singh Hooda government from further embarrassment.
The police said Geetika Sharma in her suicide note blamed Kanda for taking the extreme step.
The Delhi Police registered a case of abetment to suicide under Sections 306 and 34 of the IPC against Kanda and Aruna Chadha, one of his firm managers, on the basis of the suicide note. Geetika, 23, a resident of Ashok Vihar in northwest Delhi, was found hanging at her residence on Sunday morning.
Kanda told The Tribune that he had offered to quit to facilitate a "fair investigation" in the case.
"I am not guilty and I want to get the investigation done quickly. I made the offer to Chief Minister Bhupinder Singh Hooda this evening and will send my resignation to Governor Jagannath Pahadia tomorrow," he said. Earlier in the day, Opposition leaders demanded that Kanda be stripped of his position in view of the allegations.
Police sources said Geetika, who quit Kanda's company recently, allegedly took the extreme step as she was depressed due to mental harassment by the minister who, she alleged, was pressuring her to rejoin his company. Kanda, however, refuted these allegations and said his name was unnecessarily being linked to the incident. "A case of abetment to suicide has been registered against Kanda and Aruna Chaddha," said P Karunakaran, Deputy Commissioner of Police (North-West).
In her suicide note, Geetika had alleged that Kanda was torturing her mentally after she left her job in his company and he was pressuring her to rejoin his firm. "She has written that Kanda and Chadha broke her trust and cheated her which is why she was committing suicide," Karunakaran said.
Geetika's cousin Gaurav Sharma alleged that after the airline's operations were suspended, Kanda offered her another job, but she refused. "Instead, she chose to go to Dubai and joined the Emirates. However, he wrote a letter to that airline indulging in character assassination which led to her termination," he alleged. Kanda even gave her a BMW, which she returned after using for a few days. Kanda was a frequent visitor at Geetika's place, he said.
Rubbishing the allegations, Kanda said Geetika was employed as an air hostess in the MDLR Airlines, which he owned. "On becoming senior, she opted for ground duty. However, one day, she suddenly left office. Next we heard that she had taken a job with the Emirates. She came back in about eight months and seemed disturbed. She approached us for a job which we gave because she was a good worker," Kanda pointed out.
Maintaining that she was erratic in reporting for work, Kanda said she approached him to sponsor her study for an MBA degree, saying she was not keen on working. "We gave her Rs 7.5 lakh and made her chairman of the trust that runs my international school in Sirsa. That was the last I spoke to her. Aruna did, of course, contact her to say that she had taken the money but was not reporting for work. She was urged to come and sign papers pertaining to the school functioning. Her mother spoke to me saying they would return the money. I assured her that I was in no hurry to get it back and asked her to send Geetika to enable clearance of pending papers," he justified.
Kanda claimed the police had taken out call records that showed he hadn't spoken to Geetika for over two months. "After that, she neither reported for work nor took any calls," he said.
Confirming that he and his wife would visit Geetika's house occasionally, Kanda said, "We were on good terms with her family and would often drop by to meet her parents. Where the question of abetment to suicide has come from is a shocker to me. The truth will come out," he said.
(With inputs from Shaurya Karanbir Gurung in New Delhi)