M A I N N E W S
Special to the tribune
UK cancels varsity licence, Indian students in trouble
Shyam Bhatia in London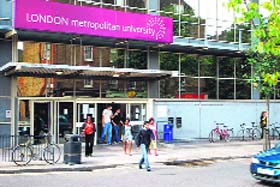 Indians are among the foreign students facing an uncertain future, including possible deportation, following the British Government's decision to strip the London Metropolitan University's (LMU) right to sponsor visas.
Both current and future students are in a state of limbo after the UK Border Agency (UKBA) revoked the university's 'Highly Trusted Status' (HTS), meaning it will no longer be allowed to authorise visas, leaving even enrolled foreign students uncertain about whether they will be able to complete their courses.
Even worse, as many as 2,000 foreign students face deportation unless they find some other approved university or college that is prepared to sponsor them.
"The implications of the revocation are hugely significant and far-reaching, and the university has already started to deal with these" says a statement issued by the university, one of the largest in London.
"It will be working very closely with the UK Border Agency, Higher Education Funding Council for England, National Voice of Students (NUS) and its own Students' Union. Our absolute priority is our students, both current and prospective, and the university will meet all its obligations to them," the statement said.
The Border Agency is concerned that some students at this particular university have remained in the UK without valid visas and others have used their visas by way of getting into the country as illegal immigrants. London Metropolitan has also been criticised for failing to adequately test both the English language and general academic ability of its foreign students.
Indians currently represent about 10 per cent, or 350 students, of the foreign student body represented at the two central London campuses of the university.
LMU vice-chancellor Malcolm Gillies has denied his university was a threat to immigration control. Responding to the British Home Office claims that the university's licence was being revoked "due to a failure to comply with their sponsor duties and the resulting threat to immigration control," he said, "The university is extremely disappointed with this news. It comes after six weeks of suspension during which the university has done everything it could do to demonstrate that the current state of its operations warrants continuing HTS (highly trusted sponsor) status and that a new management has worked to remedy past weaknesses."
Students confused, in panic
Amitabh Das, a first year student from Kolkata studying for a degree in public relations, told The Tribune, "Definitely, we Indian students will be affected. It's very sad that the university may not be there for us to continue and we may have to go back if the university's sponsorship licence is taken away. I am a 20-year-old and completely confused about what to do."
Another Indian student said in a message sent to LMU, "I have read that the university's student visa licence has been suspended by the UKBA. Can you please let me know the status of your college now? I almost applied for the September 2012 intake for MSc Aviation Management. Now, I am in two minds. Please, please, please clarify."
Student Union official Adnan Pavel said, "Our licence has been suspended for the last six weeks and the university is suffering. Government ministers say no final decision has been made, but students are scared about what may happen. Long-term, there will be a negative impact, especially for students from India, Pakistan, Nepal and Bangladesh who will be reluctant to come. They will prefer to go to a university in countries such as USA, Canada and Australia."
Pavel, who is from Bangladesh, told the local media: "If the university's licence was revoked while I was out of the UK I might not be able to come back. I am the only son and my parents were waiting for me. But after I read the story and saw how critical the situation was I couldn't fly. I paid £580 for a flight with Emirates, but I lost all the money because I cancelled at the 11th hour."
He added: "Students are in panic, they do not know what to do. Some of my friends studying for PhDs just need to complete their dissertations. Which university will take them if they just need to complete one semester?"
Another Bangladeshi student and union official, 26-year-old Syed Rumman, 26, told London's Evening Standard newspaper: "I am also on the university's governing body. If I am forced to leave, the students would lose out on representation. The students are panicking. They have come all the way from their home countries and have left their families, and this news is causing a lot of stress for them. This would be a threat to higher education across the whole of the UK. People think a British education is the best in the world but they won't come here if this happens."
Mess at London Met
As many as 2,000 foreign students face deportation unless they find some other approved university or college that is prepared to sponsor them
There are currently around 350 Indian students at the two central London campuses of the university
Most Indian students pay fee of about £10,000 (`8.6 lakh), discounted by £1,000 for their first year