PUNJAB

HARYANA

JAMMU & KASHMIR

HIMACHAL

REGIONAL BRIEFS

NATION

OPINIONS

LETTERS

BUSINESS

SPORTS

WORLD


M A I N N E W S
Circumventing law, political parties earn crores: Report
Vibha Sharma/TNS
New Delhi, September 10
The Congress, the BJP and other major political parties may be diametrically opposite to each other ideology-wise, but when it comes to funding and finances, there are common connections with "trusts" floated by top corporate houses and similar tricks to circumvent law and hide incomes.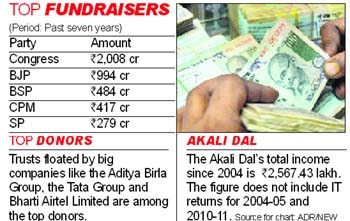 The latest salvo by the Association of Democratic Reforms (ADR) and National Election Watch, based on the analysis of IT returns and donations received by parties, shows how political outfits receive funds from secret trusts and undisclosed donors.

According to the analysis for the period between 2004 and 2011, income of 23 major parties saw a steady growth. The Congress' earnings went up from Rs 222 crore in 2004 to Rs 307 crore in 2011 and BJP's from Rs 104 crore to Rs 168 crore. Donations and voluntary contributions were major sources of income, but largely from undisclosed contributors.

Political parties have to report correct quantum and source of donations, but ADR claims that none gave correct or complete information. As per the law, political parties are also not eligible to accept any contributions from any foreign source, but companies with foreign links donated to the Congress and the BJP. For example, Sterlite industries, a subsidiary of Vedanta Group, donated Rs 6.5 crore to the Congress, while the Madras Aluminium Company,

also a subsidiary of Vedanta, contributed Rs 3.5 crore to the BJP. "The public and political awareness trust of the Vedanta Group made an overall contribution of Rs 9.5 crore to the BJP during the financial years (FYs) 2003-04 and 2004-05," says ADR's Anil Bairwal, demanding investigation into the role of corporate and foreign entities in setting up electoral trusts for donations and transparency in functioning.

Notably, donations from named contributors (i.e. contributors who made donations above Rs 20,000 for which making declaration is mandatory) formed a very small percentage of the total income. During FYs 2009-2010 and 2010-2011, BJP's donations from named donors were just 22.76 per cent of the total income, while for the Congress it was mere 11.89 per cent, followed by the NCP (4.64 per cent) and the CPM (1.29 per cent). The BSP declared it did not receive any donations above Rs 20,000 in the two years even though its total income was Rs 172.67 crore.

According to the Section 29-C of the Representation of People Act 1951, it is mandatory for political parties to submit details of contributions/donations received in excess Rs 20,000 every year to the EC.