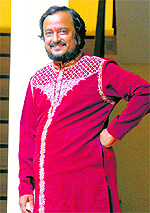 In quest of swar
"Recognition delayed is recognition denied." So believes Pandit Kaivalya Kumar Gurav, noted vocalist of Kirana gharana, Of course, he is not speaking for himself but on behalf of the artistic community at large. He says, "What is the point of conferring Bharat Ratna on artists when they are on the last legs of their life?" Besides, he feels this discrimination applies only to classical artists. He fumes, "While film stars and sportspersons' talent is acknowledged early on, classical artists have to wait for a lifetime."


VOICE VALUE: Pandit Kaivalya Kumar Gurav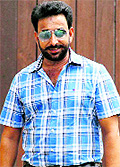 Behind the scenes
Two different worlds co-exist — one in front of the camera and the other behind it. While people might think that facing the camera is tougher, it's actually a cake-walk when compared to what all happens behind the scenes. One man who is happy being a part of both worlds, Darshan Aulakh, tells us more. In the last 28 years, he has worked as a line-producer for many Bollywood and Punjabi films and in-between managed to play cameo roles as well. "One just has to bother about one's dialogues when playing a character."
producing magic: Darshan Aulakh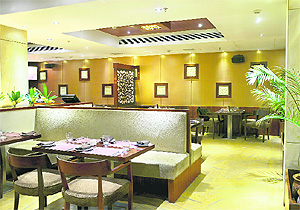 Food or mood?
Overeating is one common activity with people who live to eat! A recent study has shown that the blame of this does not rest entirely with the food, but also on the kind of ambience one eats in. Of late, the restaurants opening in Chandigarh are following the concept of fine-dining where the lighting combines with the background music to create a soothing atmosphere.

spic & span: The plush ambience of Kava in Chandigarh.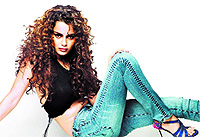 Single, yet again
Kangna Ranaut had talked about her British boyfriend for the first time on Simi Garewal's chat show. He never appeared in public until recently when he was in town and there were stories that no one had seen him. He was a doctor-cum-scientist named Nicholas Rafferty and quite a handsome man.

Boyfriend blues: Kangna Ranaut
A wedding in Venice
Pop sensation Lady Gaga reportedly hopes to marry Chicago Fire actor Taylor Kinney in Italy and will view venues for the ceremony next month. The Poker Face hit maker has invited some members of Kinney's family to join her in Venice after her concert in Milan and she hopes to spend the time checking out potential wedding venues, reported a publication.

Kareena's new milestone
Actress Kareena Kapoor believes that her portrayal of a fading Bollywood superstar in Heroine is her bravest role so far. The film, directed by Madhur Bhandarkar, is said to have been inspired by real-life incidents from B-town and Kareena says not many actresses would have taken the risk of accepting this role. "I wanted to be a heroine since my childhood. I am happy that Heroine has turned out to be my bravest role. Not many actresses would want to play the role of a declining superstar," Kareena said.
Dare bare: Kareena Kapoor
B-town supports cartoonist Aseem Trivedi
Protesting against the government, Bollywood stars have come out in support of cartoonist Aseem Trivedi who was arrested on Sunday by the Mumbai Police for 'obscene' cartoons. Here's what they said...

Miss Goody Two Shoes? Nah!
Singer Miley Cyrus and fiance Liam Hemsworth are a suspect in a criminal battery after an unidentified man filed a police complaint against the duo for getting involved in a fight in a Hollywood nightclub. The man filed a police report with the LAPD claiming he and his friends were sitting behind Cyrus and Hemsworth at Beacher's Madhouse at the Roosevelt Hotel when things turned rowdy, reported a publication online. Miley Cyrus
Cruel intentions
Music mogul Simon Cowell says pop star Britney Spears is quite mean as a judge on the singing reality show.
Don't shrug it off!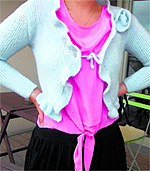 A smart jacket or an elegant wrap can jazz up any outfit. And when the season is changing and you are looking for a key element to get the concept of layering right a shrug is the answer, for it is an outfit that can give a chic twist to an otherwise casual attire. "The fashion conscious realise the worth of this particular piece of clothing, hence shrugs have upheld their rightful place in a well-planned wardrobe," says Neha Sidhu from Voila. She adds, "Though shrugs have been in fashion for long, this season they make for a perfect pick. From three fourth length sleeve knitted shrug to batwing sleeve shrugs, there are satin and crochet shrugs in asymmetrical lines in vogue this year. Detailing is another trend that you should look for as we are witnessing a lot of embellishments this season."
GET PHYSICAL
In your hand
celeb point


Darker shades of silver screen
The audience is sensible and sharp. They take one look at the promos of a film and know whether they are going to watch it or not. I know Heroine is the most awaited film. But what I didn't know was the popularity my dialogues would get in the promos. Wherever I go I am asked to mouth those lines. I was pleasantly surprised by the response.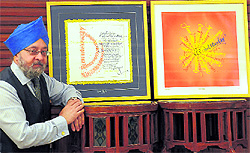 London dreams
For years now Southfields Gallery in London has been providing a platform to budding artists. This time around, the gallery is taking a step forward. Director of the gallery Kuldeep Singh Rehal is all set to give international exposure to the artists of London by displaying their works in India.

art mart: Kuldeep Singh Rehal is all set to bring foreign talent to indian art scene.

high Spirits
Go banana
Banana daiquiri with hint of peach.
it's rocking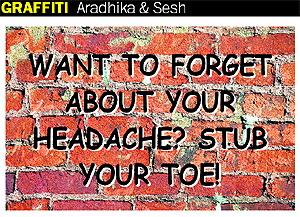 Haunting melody
Raaz 3, the latest erotic horror thriller, has one track to behold and that is Deewana kar raha hai. It has an Arabic feel to it as the Bhatts love to borrow melodies from East-European, Arabic and Pakistani works. This track is beautifully sung by Javed Ali and sounds good. It is written and composed by Rashid Khan.