22 killed, 15 injured in Uttarakhand cloudburst
Jotirmay Thapliyal
Tribune News Service


fatal friday

40 persons are reportedly missing


Rudraprayag-Ukhimath road blocked with debris


Incessant rains hampering rescue operations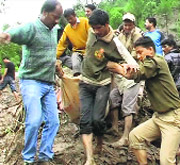 Rescuers take out a body from the debris in Ukhimath.

Dehradun, September 14
Twenty-two persons were killed in a cloudburst that struck Rudraprayag district of Uttarakhand early this morning. As many as 40 others have been reported missing.
Fifteen injured persons have been rushed to Rudraprayag District Hospital and Srinagar Hospital.
Uttarakhand Disaster Mitigation and Management Centre Executive Director Piyush Rautela said that a cloudburst hit the Ukhimath tehsil and the adjoining villages of Mangoli, Kimana, Sansari, Giriya, Chunni and Premnagar in Rudraprayag district early this morning.
In Kimana, the worst-affected village, five bodies have been found and 20 others continue to be missing. They are feared to have been buried under the debris.
In Premnagar village, five bodies have been recovered and five persons are missing. In Chunni village, four bodies have been found and 10 are missing. Two bodies have been recovered in Mangoli and 10 persons are missing from this village.
Giriya and Sansari villages reported three deaths each. A total of eight houses have been completely destroyed in the region.
Piyush Rautela said that two disaster management teams, along with district administration personnel and 120 jawans from the Army and Indo-Tibetan Border Police, have begun relief and rescue operations. He said a 43-member team from the National Disaster Response Force is also on its way to Ukhimath. A medical team from Base Hospital, Srinagar, has also rushed to the affected villages.
He said that incessant rains were hampering the rescue operations and that the Rudraprayag-Ukhimath road was blocked with debris in as many as seven places.
A private helicopter has been pressed into service. Four of the seriously injured persons were airlifted to the base hospital at Srinagar.
Uttarakhand Chief Minister Vijay Bahuguna has released Rs 10 crore as immediate relief. He and state Disaster Management Minister Yashpal Arya are making arrangements to reach Ukhimath on Saturday.