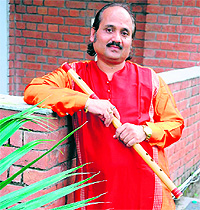 Divine notes
Unlike other classical artists, eminent flautist Pandit Ranendranath Majumdar, better known as Ronu Majumdar, doesn't curl up his nose with condescension at the mention of film music. Instead, he rates the music of several film music directors highly. Shantanu Moitra, AR Rahman and Shankar Ehsan Loy anyway figure in his "my favourites list." No wonder he, whose 'baansuri' has embellished many a film compositions, rues the fact that Bollywood solo music has yet not fallen on his plate.

magical spell: ronu majumdar
Launch pad
Launching a new Punjabi singer every month is the target of young entrepreneur Geet Brar, whose focus is on fusion music.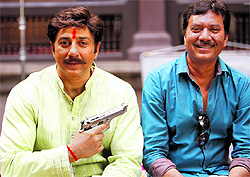 Hit formula
Bollywood producer Mahedra Dhariwal's life story is no different from a film script. A businessman in Jodhpur, this actor aspirant showed up on the sets of a Rajasthani movie. Role he didn't get, but what he got was the chance to invest money in the movie, which he duly did. When the producer didn't return the money, he followed him to Mumbai.

teaming up: Sunny Deol with mahendra dhariwal (R) on the sets of Bhaiyyaji Superhit

Efron eyes Broadway stint
Actor Zac Efron is a theatre enthusiast and has now set his sights on Broadway.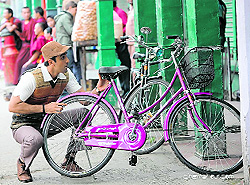 first-day-first show
Sound of silence
Starring: Ranbir Kapoor, Ileana D'cruz and Priyanka Chopra. His parents named him Murphy, but everyone calls him Barfi! Always ready with a prank up his sleeve, he's quite the charmer, especially with the ladies! In Darjeeling, Barfi (Ranbir Kapoor) is the talk of the town. Even though he can neither speak nor hear!

actions speak: A still from the movie Barfi
Decor den
As the festive season inches closer, the need to redecorate the house gains momentum. Brands today occupy an important place in the lifestyle of people; home decor is also lined with a series of brands. One of the leading international brand names, Guy Laroche Paris, opens its doors in Manimajra, Chandigarh.


rich look: Few of the luxury decor items at the store

Another scary role for Winona Ryder?
Hollywood actress Winona Ryder is in talks to star in the sequel of 1988 comedy horror movie Beetlejuice.

Pitt's take on Holocaust
Hollywood star Brad Pitt is developing a new movie about the Holocaust, which is based on Edwin Black's New York Times bestselling book IBM and the Holocaust. The 48-year-old actor is currently working on a feature which is based on the true story of how IBM's 1933 chief executive Thomas Watson entered into a strategic alliance with the Nazis, reported a publication.
Politically correct: Brad Pitt
Friends turned neighbours
Hollywood star Matt Damon has bought a USD 15 million house in the Pacific Palisades district in Los Angeles, which is right near the home of his childhood friend, actor Ben Affleck.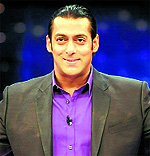 Salman Face 'booked'
Bollywood star Salman Khan has become the latest celebrity to join social networking site Facebook after Aamir Khan, Piyanka Chopra and Amitabh Bachchan. In a video message posted on his page, Salman said, "Many people have asked me why am I not on Facebook and that there are so many fake accounts which create confusion. Now that I am on Facebook, all the fake accounts should either join here or fake away," Salman said.
being Social: Salman Khan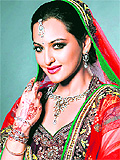 Sonakshi Sinha wants a beach wedding
Bollywood actress Sonakshi Sinha says that she wants to be a simple bride whenever she gets married. The actress walked the ramp for designer Jyotsna Tiwari recently on the second day of the India Bridal Fashion Week 2012, held in Mumbai. "I want to be a simple bride when I get married. I want a beach wedding where I am running around on the sand in a white dress," she said after the show.

Bridal dreams: Sonakshi Sinha
Ranveer speaks his mind
Sonakshi Sinha: I think she is a beautiful woman and charming too. She has come a long way by losing weight and honing her style. The guys in single-screen cinemas love her. I watched Rowdy Rathore in a single-screen and there were a lot of whistling and clapping for her. Men find her very hot! I mean this as a compliment.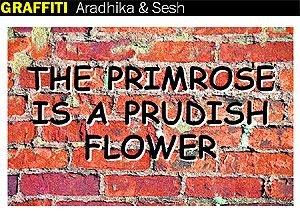 Wicked things to say…
The word on Raaz 3 is mixed but everyone has praised Bipasha Basu's wicked witch act! She talks about her film, being single, and becoming a match-maker.