M A I N N E W S
With assets over Rs 100 cr, Butail is HP's richest politician in fray
Lalit Mohan/TNS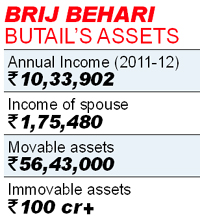 Dharamsala, October 18
Himachal Pradesh, otherwise perceived as a poor state, has a billionaire amongst its ranks of politicians contesting the Assembly elections in the state. Brij Behari Butail, the Congress candidate from Palampur in Kangra district, is the richest politician contesting these elections, owning movable and immovable assets worth more than Rs 100 crore.
He owes it to the value of tea gardens he owns in Palampur.
Butail is a former revenue minister and belongs to the family that has been affiliated with the Congress from the very beginning.
His elder brother Kunj Behari Lal Butial was a former head of the HPCC. Brij Behari Butial won his first election in 1985 from Palampur. Right from the start of his political career, he had been squaring off against BJP stalwart Shanta Kumar, with both leaders defeating each other consecutively from the Palampur Assembly constituency.
In the last Assembly elections, Butial was defeated by BJP candidate Parveen Sharma, a Shanta's protégé.
He is a leading tea planter of the state and owns maximum land in Palampur town.
The Butail family was able to retain a majority of its land even after the land ceiling of 300 kanal per person was imposed in the state, as the state government exempted the tea garden land from the land ceiling Act. The exemption had come with the condition that the land could not be diverted for any other purpose. But Butail family's tea garden land was diverted for housing colonies in Palampur.
GS Bali, the Congress candidate from Nagrota Bagwan, has disclosed an annual income of Rs 1,06,02,721 in his tax return for 2011-12. In their affidavits of income filed before the returning officers, a majority of contesting candidates have disclosed meager annual incomes despite having assets worth crores of rupees.