Cong game plan: Blend youth with experience
KV Prasad/TNS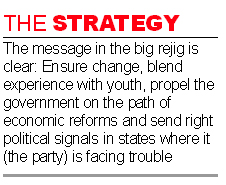 New Delhi, October 28
The Sunday reshuffle in Team Manmohan is probably the last such exercise undertaken by the Congress before the 2014 Lok Sabha elections, which the party is keenly eyeing.
The message is clear: Ensure change, blend experience with youth, propel the government on the path of economic reforms and send right political signals in states where it (the party) is facing trouble.
For the first time since May 2009, three - External Affairs, Finance and Home - out of the top four ministries have witnessed a change of guard within a span of few months. Salman Khurshid is now entrusted with the responsibility of shaping the foreign policy.
Earlier, P Chidambaram was moved up the North Block as the Finance Minister after election of Pranab Mukherjee as the President in July this year.
Sushil Kumar Shinde replaced Chidambaram in the Home Ministry. Only Defence Minister AK Antony retains his job, which he got in the UPA-1 government. He, however, gets two new deputies in form of Lalchand Kataria and Jitin Prasada in place of MM Pallam Raju.
With the Trinamool Congress' exit making its task easier, the party distributed various portfolios among 17 new entrants - 2 Cabinet Ministers, 2 Ministers of State with Independent Charge and 13 Ministers of State.
Andhra Pradesh benefitted the most from the exercise today with MM Pallam Raju getting the charge of the HRD Ministry. While actor-turned politician K Chiranjeevi was made the Minister of State with Independent Charge, four leaders from the state - Kotla Jaya Surya Prakash Reddy, Sarvey Satyanarayana, Porika Balram Naik and Killi Kruparani - were made Ministers of State. It has been done essentially to counter emerging political challenge from the YSR Congress. The Congress sent a right signal to Kapu community by elevating Raju and rewarding Chiranjeevi, who merged his nascent 18-member Praja Rajyam Party in February to bail out the beleaguered Kiran Kumar Reddy Government. Of the rest, Naik is a tribal and Satyanarayana, a scheduled caste from Telengana region while Kruparani, a backward caste from coastal Andhra and Kotla Reddy is from the Rayalseema region. Overall, the state now has 11 ministers muting criticism that despite sending 33 MPs it is inadequately represented in the government.
Trinamool's departure also helped the Congress induct three ministers - Deepa Dasmunsi, wife of former minister Priyaranjan Dasmunsi, his protégé Adhir Ranjan Chowdhury and AH Khan Choudhary, brother of former Union Minister Ghani Khan Choudhary. The party has tried to compensate Harish Rawat by elevating him to cabinet after denying him the chief ministership of Uttarakhand while Dinsha Patel benefits ahead of December Assembly elections in Gujarat. Ajay Maken, in the forefront of pushing a Bill to rein-in powerful sports federations, moved up paving way for Rahul Gandhi's pointsman Jitendra Singh. Maken is also an anticipated face of the party in Delhi when polls are held next year. In Petroleum Ministry, Jaipal Reddy's strong stance against Reliance gas pricing could be a factor behind his shift to the Science and Technology Ministry. Maharashtra did not get any berth as was anticipated to fill the vacancy caused by the death of Vilasrao Deshmukh.
Like Jitendra Singh, Jyotiraditya Scindia (Power), Bharatsinh Solanki (Drinking Water and Sanitation) and Sachin Pilot (Corporate Affairs) is a move to prepare younger MPs for greater role in the government as Ministers of State with Independent Charge.