M A I N N E W S
Rein in Delhi Govt, Badal urges Prime Minister
Tribune News Service
Chandigarh, November 16
Punjab Chief Minister Parkash Singh Badal today sought the intervention of Prime Minister Manmohan Singh to stop the Delhi Government from going ahead with its "dangerous" move to interfere in the religious affairs of the Sikh community.
In a letter to the Prime Minister, Badal urged him to ensure that elections to the Delhi Sikh Gurdwara Management Committee (DSGMC) were held in accordance with the directions of the Supreme Court.
Expressing deep anguish over the violence yesterday, Badal told the PM that the incident was a direct consequence of the chain of events unleashed by the totally unjustified and provocative move of the Delhi Government to interfere in the religious affairs of the Sikhs through a proposed amendment to the election procedure of the DSGMC.
"Unfortunately, my pleas remained unattended. Yesterday's events have further confirmed the fears in the minds of the Sikh masses that the Congress government in Delhi is bent upon creating problems for the community for narrow political ends," he added.
In a separate letter to New Delhi Lieutenant Governor Tejendra Khanna, the Chief Minister urged him to ensure exemplary punishment for perpetrators of the murderous attack on SAD leaders and workers on Thursday.

Don't interfere: Sarna to SAD (B)
Tribune News Service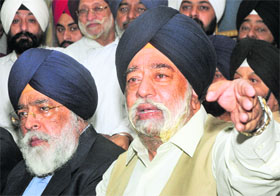 Paramjit Singh Sarna
New Delhi, November 16
Delhi Sikh Gurdwara Management Committee (DSGMC) president Paramjit Singh Sarna today warned the Shiromani Akali Dal (Badal) against intervening in the committee's affairs.
Sarna made the statement in response to SAD (Badal) MP Harsimrat Kaur Badal's remarks that he had a Congress background and that was the reason for his attack on Manjit Singh (GK), chief of the Delhi unit of SAD (Badal), and others yesterday.
"I was born Akali. My maternal grandfather was a leader of the Akali Dal while Harsimrat Kaur's grandfather was a Congress leader in Punjab who did nothing for the Sikh community," Sarna said. "The Badal group has always been working against the community. A recent example of this is re-naming of the Sant Harchand Singh Longowal Park in Punjabi Bagh. SAD (Badal) wants to name the park in the memory of 1984 anti-Sikh riot victims."
Sarna said Thursday's meeting was of the executive committee and Manjit Singh was not a member of it. There was no mention of special invitees on the agenda, he said.
"Manjit was aware of the DSGMC rule, but he tried to violate it and attempted to enter the committee hall forcibly, resulting in the clash," he said. Punjab Deputy CM Sukhbir Singh Badal and Harsimrat Kaur Badal visited Manjit Singh (GK) in hospital yesterday. He has been discharged from hospital.