M A I N N E W S
Op Morocco: A secret chase for 26/11 plotter's wife
Man Mohan
Our Roving Editor
New Delhi, January 21
Referred to as 'Operation Morocco', this top secret Indian intelligence mission was 'killed' just when it was about to yield results. The highly classified operation was linked to the crucial investigation into the Mumbai terror attacks that left over 166 persons, including six Americans, dead.
The goal of 'Operation Morocco' was to reach out to Faiza Outalha, the estranged wife of Pakistani-American terrorist David Coleman Headley, who acted as a 'scout' to identify various targets for the deadly strikes.
Currently, Faiza is living in and out of the north Moroccan town of Meknes. Faiza was Headley's third wife. At the time of their marriage in 2007, Faiza was a medical student half his age.
The hush-hush operation was put into motion by the foreign spy agency, Research and Analysis Wing (RAW), to establish one-to-one contact with Faiza, who was with Headley when he was doing reconnaissance in Mumbai for the Pakistan-based Lashkar-e-Toiba (LeT) terrorists. Faiza and Headley had watched the Mumbai attacks 'live' on television in their Lahore home.
Faiza's presence during the scouting of multi-targets, including five-star hotels, a railway station and the Jewish quarters, and her meetings with the 'master brain' - LeT founder chief Hafiz Saeed - in Pakistan makes her a 'highly valuable witness' for Indian investigative and intelligence agencies.
Till today, Faiza continues to be elusive for Indians, thanks to the 'forced failure' of 'Operation Morocco.'
Top sources in the RAW said the aim of the operation was to establish contact with Faiza and attempt to bring her to India for recording her statement about her knowledge regarding the Mumbai plot and subsequent attacks, Headley's contacts in Pakistan and her meetings with Hafiz Saeed.
The mission — for strange reasons — was abruptly stopped in mid-2012 at the highest level in the espionage agency despite the fact that Faiza holds the key to the Mumbai attacks conspiracy.
That was the end of the 'secret chase' to reach out to Faiza. There is a likelihood that even the Prime Minister, the National Security Adviser, the National Investigation Agency (NIA) and the Mumbai police are unaware of this fiasco, sources said.
The US Federal Bureau of Investigation (FBI) kept Faiza out of the trial of Headley and his Pakistan-born Canadian aide Tahawwur Rana (52), a Chicago-based businessman.
Headley, who confessed his crime, is scheduled to be sentenced by a Chicago court on January 24. He had entered a plea bargain with the FBI, saving himself from his extradition to India and possible death penalty.
His school-time friend Rana was sentenced to 14 years in prison on January 17 for providing 'material support' to Pakistan-based LeT and for backing a plot to strike a Danish newspaper. Rana, who was originally arrested in 2009 for his involvement in the 26/11 Mumbai attacks, was, however, acquitted of that charge.
During the trial, Rana's counsel had raised the issue of Faiza going scot-free. He wanted to know as to why she was not made an accused or a crucial prosecution witness though her role in the Mumbai attacks was not less than of Headley and his client.
Faiza's evidence on oath would have 'exposed' the Americans as she had warned the US Embassy in Islamabad of Headley being a terrorist and his plot to hit targets in Mumbai and Karachi. This would have also put on record that Headley had worked for America's Central Intelligence Agency, Drug Enforcement Agency and Pakistan's Inter-State Intelligence. The FBI kept Faiza out of Headley's trial.
Although the Americans allowed the NIA team 'limited access' to Headley, India's request to send him to face the trial in this country too was turned down by the US authorities.
The NIA last year sent a Letter Rogatory to Morocco through a city court for recording Faiza's statement. But it is not likely to yield desired results. The Americans are reported to be keeping a close watch on her. For Indians, Faiza has become 'Mission Impossible'.
RAW Mission aborted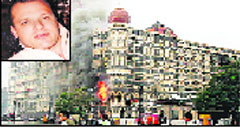 After the Mumbai attacks, the RAW put into motion a top secret mission to reach out to Faiza Outalha, the estranged wife of Pakistani-American terrorist David Coleman Headley (in pic), and bring her to India from Morocco

Faiza holds the key to the 26/11 conspiracy; she was with Headley when he recceed targets and met LeT founder Hafiz Saeed. She is also believed to know Headley's Pak contacts

Operation Morocco — for strange reasons — was abruptly stopped in mid-2012 at the highest level in the espionage agency