Laugh out loud
The word jatt is back in the title. And this time, the cast and crew of Jatts in Golmaal once again promise to tickle our funny bone no end…
Till we replicate the magic of the laugh riot Carry on Jatta, we won't quit trying; for every new venture in Punjabi cinema carries some affiliation with the cult film. So this one promises a joyride as it has the story, screenplay and dialogues by Naresh Kathuria (of Carry On Jatta fame). Jatts in Golmaal brings you Binnu Dhillon, Aarya Babbar, Gurpreet Ghuggi, Jaswinder Bhalla and Sameskha, among others. "The movie has songs by Mika, Sunidhi Chauhan and there's also an item number Shabo De Chobare. It has a lot of dance numbers, party tracks and wedding songs," says Aarya Babbar, in Chandigarh for the music launch of the film. No matter how compartmentalised the subject may be; when we talk of the music, can the cast and the script be far behind?
Screen scorcher!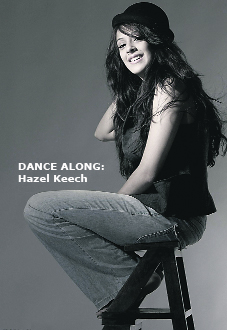 Item numbers are hugely popular and a successful one can make or break a movie. British actress Hazel Keech does one for an upcoming Punjabi movie Heer & Hero…
Music, like we have often heard and known, knows no barriers; off late we discovered one more form that cannot be chained to culture, language or geographical boundary — the item number! A pretty looking girl with appealing vital stats from any part of the world can come to Bollywood and walk away with a sexy item number! And mind you, women who have tried this far have been pretty successful. Hazel Keech, the British actress and model, slipped into the hearts of people with her item song Aa Ante Amlapuram in the film Maximum. This model was, however, smart enough to not restrict herself to the tag; she took to acting as well; Hazel played Kareena Kapoor's friend in the film Bodyguard. Looking beautiful, the gossamer skin beauty hits Chandigarh to talk about her item song for her first Punjabi film Heer & Hero.
Not just skin-deep
In Chandigarh, stylist and make-up artist Ambika Pillai gives tips on skincare and overall grooming…
When the skin breathes right, the world becomes a beautiful place. In the world of fashion, the name Ambika Pillai resounds; the stylist and make-up artist interacted with college students about skincare and grooming at Park Plaza, Chandigarh, on Tuesday.
Astro turf
ARIES: You won't be able to count on anyone, so if you are going to go out, take a cab and visit your friends. It's time to get rid of the burden you've been carrying on your shoulders. Tarot message: Do not transact in uncertain matters. Lucky color: Royal-blue. Lucky number: 51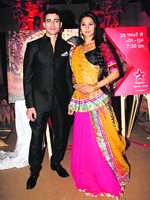 Chatter box
In pursuit of love
Saraswatichandra finally wishes Kumud on her birthday and fulfils her wish by lighting hundreds of lanterns in the sky. Meanwhile, Kumud, who is very happy by his gesture, feels that Saraswatichandra is softening towards her. He even protects her and ends up fighting with people who eve tease her. While Kumud goes to meet Saraswatichandra to confess her feelings, they end up hugging and professing their love, but Gumaan tries her best to keep them apart and promises to break this relationship.
Romantic alliance: A still from Saraswatichandra
Problematic pairs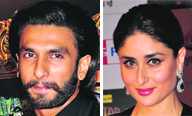 Many Bollywood movies work because of their actors and star pairs; the casting coups they manage. For instance, Ranbir Kapoor and Deepika Padukone in Yeh Jawaani Hai Deewani , Shahid Kapoor and Priyanka Chopra in Teri Meri Kahaani because they are former lovers. So we tell you some interesting and even controversial pairs we will see this year and in 2014…
Kareena Kapoor Khan and Ranveer Singh: We might see them playing siblings in Zoya Akhtar's next film which also stars Hrithik Roshan and Katrina Kaif. Ranbir was supposed to do it but he is too busy so Ranveer and Kareena will play siblings like Zoya and Farhan Akhtar. Ranveer and Kareena were supposed to do Raam Leela together but that did not work as Kareena got married and SLB wanted a single heroine.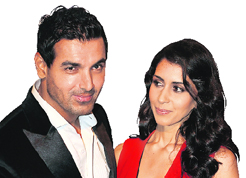 Picture perfect
John Abraham's girlfriend Priya Runchal was so happy and thrilled to be at the National Awards ceremony and more so because of John's win for Vicky Donor. She kept clicking his pictures when he and the team members were on stage for the movie which won in the wholesome entertainment category. John took perfect care of his fiancée.
Kodak moments: John Abraham & Priya Runchal

CELEB POINT
Salute to cinema
Hey, which film are we planning to watch this week? I want to be like Amitabh Bachchan! Did you see Katrina's outfit? I want to have a similar one! That song from that film lifts my mood! Don't we hear these conversations everyday? Aren't they an integral part of our lives? From school-going kids to the corporate heads to the housewives and the retired alike, cinema is the connecting factor. And this week, we mark the completion of 100 years of cinema. Of entertainment, of fantasies, of story telling, of stars, of dreams!
Coming soon
Simple take
Simplicity is perhaps the most overrated expression of humility. However, when it comes to defining the complex disposition of an artist, whose idea of beauty bestows in itself the essence of realism, one cannot help but to give due credit to his simplistic idea of creativity. Gulwant Singh, who comes across as a man of plain tastes, makes no pretence in filling the colours of his original character when he paints on canvas. "I am not the kinds who like to mix and match a lot of colours. I like it simple and perhaps that shows in most of my paintings," he begins.


Clash of the exes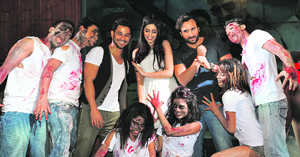 Saif Ali Khan's Go Goa Gone, which he has produced and also stars in, is releasing one week before Aurangzeb which stars his ex-wife Amrita Singh which releases on May 17. Neither of them thought that this would happen. Both are playing character roles in their respective movies and Amrita is doing a film after ages.
Get set go: A still from Go Goa Gone
Old world charm
In Patiala, veteran actress Neena Tiwana created a spell on stage with her role in the play Ammi…
When veteran actress Neena Tiwana took to the stage after a long time at Harpal Tiwana Centre for Performing Arts in Patiala to portray a helpless mother who is abandoned by his son in an old age home, it was a mesmerising treat for theatre-lovers. Her performance in the play tiled Ammi once again reminded the audience as to why the thespian was an integral part of Punjabi movies till some years back. The play was staged by the Harpal Tiwana Foundation, along with another play titled Chauksi Maharaj recently.
Future Shock
Keep kids safe online!
Dear parents, It's with a lot of love for your kids and utmost respect for your opinion that I ask you to allow your children to explore a new world that's always attracting them online. Parents often ask me if they should let their kids go online and surf by themselves. By all means, yes! Sure, there are some risks that we need to avert. But the wealth of knowledge and exposure internet gives your child can never be recreated in a similar way.
Master Chef
Brownie point
Sometimes you need 'something sinful and gooey' as a treat and you need it just now! Please tell me you also have such cravings, or I shall think I'm the isolated, weird museum-specimen! The cup-culture for zapping a quick delight in the microwave has become exceedingly popular in the West. Students, working youngsters or anybody in a hurry turns to 'cooking a quickie' with small amounts of ingredients and minimal time. It's the next best thing after the two-minute-noodles! An ooey-gooey brownie, steaming hot and puffy could lift your spirits without too many calories. Remember not to overfill the cup with the batter. Microwaves cause a huge swell in even small portions. If you are doing more cup helpings for sudden visitors, adjust the time accordingly. Do check a little before the time is up! Even an extra 10 seconds in excess can result in a stony-brownie!
Shahid injured?
The fire accident on the sets of Prabhu Deva's Rambo Rajkumar last week in Mumbai was not as minor as it was made out to be. Apparently Shahid has got burn injuries on his back and hand and he will need some time to recover fully. "We were shooting a fire sequence when the chemical used to create the fire went awry. It singed Shahid's shoulder and hand. It could have been much worse. Thankfully nothing serious happened," says a source.
Roy on a roll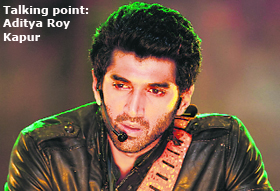 Aditya Roy Kapur has recently tasted success with Aashique 2 and is looking forward to Yeh Jawaani Hai Deewani . The 27-year-old is enthusiastic about everything and talks about doing good films, family, success and more.
Support system: Success can come and go but I need to build a resume of good films and good performances because I can always bank on that. I come from a family very connected to films so I get a point of view from a director, actor, producer, and an actress. That would be my brother Kunal, then Siddharth and my sister-in-law Vidya.
Time to celebrate
DLF City Centre Mall, a popular shopping and entertainment destination, has turned five. As part of the celebration a beautiful three-tier-cake was cut by Caroline Dangwal, mall manager, in the presence of hundreds of shoppers. Following this, a live Rock band performance filled the air with excitement and visitors to the mall were seen tapping their feet to the music. The band Kalkii played Hindi rock and entertained the audience with a blend of Sufi and Bollywood beats.
Spicy treat
McDonald's was perhaps the first global QSR (Quick Service Restaurant) brand in the country to introduce products that had local names and flavours. McAloo Tikki was the first such product to be introduced in India. And now, the brand has introduced a new grilled product called masala grill. The new product has both vegetarian and non-vegetarian variants that give a hint of kebabs from the northwest frontier.
Watch out for Ishkq In Paris
After a lot of delays, Preity Zinta's maiden production Ishkq in Paris, made under the banner of PNZ Media, is all set to release on May 24. This was announced by director Prem Raj on whose health ground the release of the film has been delayed. The director said, "We are happy to announce that Ishkq in Paris is set to release on May 24."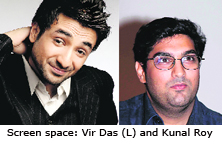 Reel bonding
Kunal Roy Kapoor and Vir Das were together in Delhi Belly and they are doing another film together backed by Viacom. We are sure it is a comedy. Kunal was recently seen in Nautanki Saala and Vir Das will be seen in Go Goa Gone next week.