M A I N N E W S
Re slide continues, hits all-time low of 63.30
Sanjeev Sharma/TNS
New Delhi, August 19
Rupee's nightmarish run continued today as it registered its biggest single-day loss in a decade, breaking through the 63-mark to the US dollar. As a collateral damage, the stock markets fell another 291 points and bond markets got jittery with yields jumping to a five-year-high.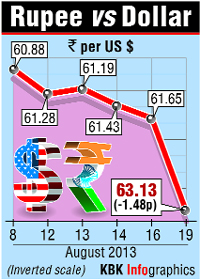 Rupee breached the 63-level for the first time against the US currency, falling by Rs 1.65 to 63.30, despite a series of measures by the RBI and the government to arrest the Indian currency's slide.
Rupee closed at 63.13 versus US dollar, its biggest single-day drop of 148 paise in a decade. The stock markets were also spooked by the concerns over the currency and the pain for the economy as it fell by 291 points to end at over 4-month low of 18,307 points.
In another move to stem the fall of rupee, the government today banned duty-free import of flat-screen television by air-travellers. The government has decided to "disallow import of flat-panel (LCD/LED/plasma) televisions as part of free baggage allowance" with effect from August 26.
Air-travellers currently can bring a flat-screen television for personal use without paying any duty.
Despite several steps and assurances by the government and the RBI, there is no respite for rupee as markets and investors are opting to take a bearish view. With rupee in crisis, Finance Minister P Chidambaram held a meeting in North Block with officials of various departments to take stock of the economic situation and discuss fresh measures.
Analysts maintain the prospects of a recovery in the Indian economy have eroded.
Emkay Research said in a note that worsening financial scenarios, tighter credit conditions and rising burden of structural adjustments were likely to diminish prospects of recovery in the short and medium term.
"Overall, we believe, the elevated level of current account deficit, despite very weak domestic demand exposes India to significant currency vulnerability in the context of US Fed tapering scenario," it said.
Emkay Research said excess capital flows (unsubstantiated by commensurate growth) on the back of US quantitative easing overdose probably started building up since third quarter of financial year 2012 and averaged 2.3 per cent of the quarterly GDP, amounting to cumulative $60-70 billion. "Decline in support to capital account flows due to deeper tapering of global liquidity could imply significant equity market outflows," it said.
There are also concerns now on the impact on growth and the pain for corporates with the rupee depreciation. Dipen Shah, Head- Private Client Group Research, Kotak Securities said markets fell sharply for the second consecutive day as the weakness in the rupee marred sentiments.
He said concerns over mark-to-market losses on banks' portfolios resulted in the banking index once again being the major loser.
Free fall
* The Indian currency fell by Rs 1.65 to touch 63.30-level versus a US dollar
* It closed at 63.13, registering its biggest single-day drop of 148 paise in a decade
* The stock markets also slumped, shedding 291 points on Monday
* The bond markets got jittery with yields jumping to a five-year-high