M A I N N E W S
Punjab Govt tweaking Centre's food security scheme
Sarbjit Dhaliwal/TNS


Atta-Dal Scheme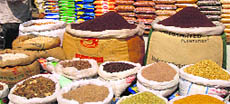 About 65 lakh beneficiaries are covered under the scheme


These families are given 25 kg wheat at Rs 4 per kg


They are given 2.5 kg dal (pulses) at Rs 20 per kg
Expansion plan

The government intends to expand the scheme to cover all 141 lakh beneficiaries eligible under the Central food programme


It would provide dal at Rs 20 per kg and wheat at Rs 1 per kg to all beneficiaries. The Centre would give wheat to the government at Rs 2 per kg


The state government would have to spend about Rs 190 cr on providing dal. As wheat available at Rs 2 per kg would be distributed at Rs 1 per kg, the state would have to spend Rs 90 crore on wheat


The government would incur an expenditure of Rs 130 crore per annum. This would include commission to depot-holders, transport charges and other overhead expenditure. In all, it would have to spend about Rs 410 crore to give the Central scheme a Punjab tag
Chandigarh, October 15
The Parkash Singh Badal-led government is tweaking the National Food Security Programme in such a manner that when implemented, the SAD-BJP alliance reaps its political benefits in entirety. Sources said a number of informal meetings of officials had been held to discuss various proposals.
But none had been finalised as yet. During the last Cabinet meeting, a Group of Ministers was set up under the chairmanship of Deputy CM Sukhbir Singh to look into the issue.
Sources said the state government intended to expand its Atta-Dal Scheme to cover all 141 lakh beneficiaries eligible under the Central food programme. It would provide dal (pulses) at the subsidised rate of Rs 20 per kg and wheat at Re 1 per kg to all beneficiaries. The Central programme does not include pulses.
About 9 lakh tonne wheat will be required every year to implement the programme in the state. At present, about 65 lakh beneficiaries are covered under the scheme. These families are given 25 kg wheat at Rs 4 per kg and 2.5 kg dal at Rs 20 per kg. The scheme is said to have had a major role in the re-election of the SAD-BJP government. Sources said as the number of beneficiaries to be given pulses would double, Punjab would have to spend about Rs 190 crore on the same.
As wheat will be available at Rs 2 per kg but would be distributed at Re 1 per kg, the state government would have to spend Rs 90 crore on wheat from its treasury. Punjab has about 11 months to implement the programme.The Deputy CM is making sure that the modified food programme is implemented well before the next LS poll year, it is learnt.