Indo-Pak talks end
in a stalemate
COLOMBO, July 31 — The India-Pakistan meetings in Colombo have ended with India underscoring its stand in the multilateral 10th SAARC summit, whereas, in the bilateral leg, a stalemate has been the net result. The washout is despite the show of warmth by Mr Atal Behari Vajpayee and Mr Nawaz Sharif on Wednesday.
25 killed in Pak shelling
JAMMU, July 31 — At least 25 persons including eight Army jawans, have been killed in renewed shelling of border villages.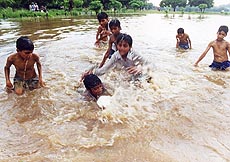 Rain disrupted life in the region, though it provided welcome relief and fun for some. Photo by Gautam Singh
Monsoon over Punjab, Haryana above normal
CHANDIGARH, July 31 — This year's monsoon over Punjab and Haryana is above normal by 33 per cent and 52 per cent, respectively.