Riparian states reach accord on Cauvery water-sharing dispute
NEW DELHI, Aug 7 — A breakthrough was achieved today on the implementation of the contentious interim award of Cauvery water-sharing dispute, with the Chief Ministers of four basin states arriving at a "broad agreement".
My indictment unfair: Thackeray
MUMBAI, Aug 7 — Shiv Sena chief Bal Thackeray today described as "unfair" his indictment by the Srikrishna Commission, which probed the 1992-93 communal strife here, saying, "I was not even summoned by the commission to explain my position".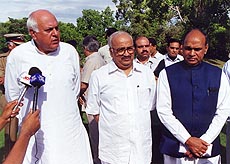 The Chief Minister of Jammu and Kashmir, Mr Farooq Abdullah, the Union Home Secretary, Mr B.P. Singh and Chief Minister of Himachal Pradesh, Mr Prem Kumar Dhumal, speak to the press after a joint meeting at Punjab Raj Bhavan in Chandigarh on Friday.
HP - J&K action plan on steps to fight terrorism
CHANDIGARH, Aug 7 — Both Jammu and Kashmir and Himachal Pradesh today drew up a joint strategy to fight terrorism and prevent a repeat of the Chamba massacre.