PM asks Jaya for evidence

NEW DELHI, Aug 17 — The Prime Minister, Mr Atal Behari Vajpayee, tonight asked AIADMK chief J. Jayalalitha to furnish all evidence regarding her allegations of "financial misconduct" by persons very close to him for the transfer of Enforcement Directorate chief
M.K. Bezbaruah.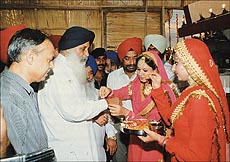 Punjab Chief Minister Parkash Singh Badal being given a traditional welcome on Sunday at Ludhiana. He presided over a function to mark the conclusion of the celebrations of 50 years of Independence.