Ensure veracity of result: High Court
CHANDIGARH, Aug 24 —"Evolve some method through which you can satisfy each student about the correctness of his result. Ponder over it tonight." With this direction to counsel for the Punjab Technical University, the Punjab and Haryana High Court today adjourned to tomorrow a bunch of writ petitions filed by students who were aggrieved by incredible lapses committed by the university.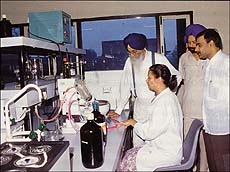 The Union Minister for Chemicals and Fertilisers, Mr Surjit Singh Barnala, visited the National Institute of Pharmaceutical Education and Research in Sector 67, S.A.S. Nagar, on Monday. —A Tribune photo.