He is the Hero No 1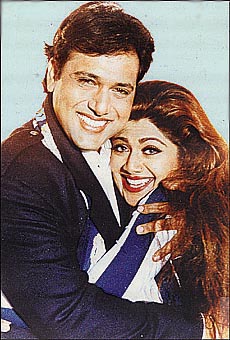 By Shiv Kumar Tiwari
GOVINDA has come a long way ever since the Ilzam and Love '86 days, when he was a rank newcomer, albeit a promising star-in-the-making. Over the years, the now much-acclaimed actor and star has amply proved his qualities and capabilities as a versatile performer, be it in emotional or dramatic roles, or comical or action roles. Whatever the kind of role, Govinda has done them all.
And though, in recent times, some of his starrers haven't fared too well at the box-office, Govinda's capability has never ever come under my criticism, nor did he have to take the blame for his films not living up to expectations. One of the new noteworthy films starring Govinda is A.K. International's Anari No. 1, being directed by Kuku Kohli. "I play a double role in Anari No. 1, Govinda reveals excitedly. "One is Raja, a rich boy, while the other role is that of Gopal, a bumpkin."
There have been several Govinda-starrers in the ...No. 1 series, and interestingly, all of them have been comedies. Explaining the reason behind so many of his films ending with ...No. I, Govinda says, ...No 1 has proved to be lucky for me. All my films which featured ...No. 1 as a part of its title have proved to be major successes at the box-office." There is another reason too. "I have decided to act in seven films titled as ...No. 1. So far, I have done Coolie No 1, Hero No. 1 and Aunty No. 1. This one, Anari No. 1, is my fourth in the series, and there are three more similarly titled films in which I am working."
One of the major Govinda-starrers lined up for release in the near future is Bade Miyan Chote Miyan, which also stars Amitabh Bachchan. Govinda, obviously in awe and respect, looks upon the Big B as his guru. "Amitabh Bachchanji is my guru, I am only his disciple. He's truly a great artiste. Even at this age, he works hard and with dedication. To tell you the truth, there are a lot of things which I learn from him."
Comedy, like any good actor knows, is a rather difficult cup-of-tea for most performers. But not Govinda. In fact, he looks most at home in comedy roles. To the extent that he could end up being typecast as a comedian. But Govinda seems to differ. "I don't think so," he maintains. To explain his viewpoint, Govinda cites the example of his earlier days. "When I had made my debut in films, and during later times too, people had labelled me as a dancing star. And even I had begun to feel that I would end up being labelled thus. But then came the era of action stars, and when my action-packed film Shola Aur Shabnam clicked at the box-office, I managed to break away from the dancing star label. And then, when many of my comedy films began clicking, I realised that it is not necessary that an actor has to remain labelled with an image for life."
Govinda has given several hits, but he has given some flops too. But Govinda believes that hits or flops, no one person is fully responsible for the outcome of any film at the box-office. "I believe that no actor or a star can make or break a film. A star shouldn't think so, and if there are some who do believe in this theory, they are sadly mistaken. I believe that to be a success, a film has to be good and well-made in totality. If this were not so then no big stars' films would flop at the box-office."
Since film-making entails huge expenditure and involvement of several people, punctuality is a vital factor. But Govinda is not known for reaching his sets in time. In fact, the star is known for coming late thereby causing inconvenience to a lot of people. But Govinda defends himself saying, "Times have change now," he maintains. "Everybody in the industry knows about my late-coming. I realise this phenomena and have been making genuine efforts to reach sets and shooting venues well in time."
But what about reports of producers complaining of his dilly-dallying attitude regarding dates and thus delaying the progress of the films? What does he have to say for that? "Rather, I feel it is more of an allegation. For your information, it is not true. Right now I have completed three films, viz Kulbhushan Gupta's Pardesi Babu, Anil Sharma's Maharaja and Vashu Bhagnani's Bade Miyan Chhote Miyan, and these films are fast heading towards release. And on the other hand, I simultaneously signed Anari No. 1, Vasant Doshi's Dil Ke Aas Paas, Cheetah Yagneesh Shetty's Hum Tumpe Marte Hain, Rajeev Anand and Rakesh Malhotra's Hadh Kardi Aapne and Jimmy Nirula's Dulhan Dilwale Ki. So you see, if I was dilly-dallying, those films would not have been completed as of today, nor would I have bagged new assignments."
Raveena Tandon was recently seen paired opposite Govinda in his recent release Dulhe Raja. The film has proved to be a runaway hit, and the star-duo have proved to be a hit combination. Not surprisingly, there are several forthcoming Govinda-starrers which co-star Raveena in the female lead. "Raveena is a versatile actress," Govinda justifies. "With every film, she has carved a niche for herself. I really adore her talent. She is no more just the song-and-dance actress and I enjoy working with her. Besides, the film trade in general, is considering us a hit pair. So why not?"
About his future plans, Govinda maintains that though he does not believe in chalking out future plans, still he has decided to limit the number of films that he acts in every year. "Henceforth, I will be doing only six films every year. And also, I will act in at least one art film every year," he reveals.
It's rather difficult to imagine Govinda acting in an art film. But one never knows. Perhaps he might prove his mettle as an accomplished and convincing actor in art films too. What say? (BSF)