PM: Pak creating trouble in J&K
SRINAGAR, Dec 6 — The Prime Minister, Mr Atal Behari Vajpayee, has blamed Pakistan for creating trouble in Jammu and Kashmir and trying to disrupt the peace in the state.


Violence on masjid demolition anniversary
NEW DELHI, Dec 6 — Stray violence marred parts of Kerala and Karnataka and paramilitary personnel staged flag march in Pondicherry while more than 2,000 protesters were arrested across the country on the sixth anniversary of the demolition of Babri Masjid today.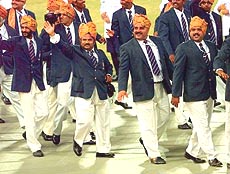 BANGKOK: The team from India waves to supporters as they enter Hua Mark Stadium on Sunday during the opening ceremonies of the 13th Asian Games in Bangkok. — AP/PTI

(Report on Sport page)
Terms for inviting Manjit Singh
CHAMKAUR SAHIB, Dec 6 — Prof Manjit Singh, Jathedar of Takht Keshgarh Sahib, will not be invited to any function or activity to be organised by Akal Takht till he submits accounts of the World Sikh Council to the highest religious body of the Sikhs.