A night laced with pep and music
"MAN, it's the most happening show in town," said a young college student standing outside Delhi's Jawaharlal Nehru Stadium. And so it was. Even as the Channel V awards function got underway there was an enthusiastic crowd of over 20,000 warming up to see their favourite stars.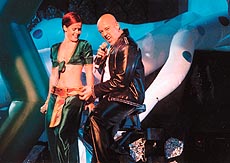 The night belonged to not one but four artistes. Daler Mehndi walked away with the Best Indian Album and Best Male Performer awards. Danish group Aqua won the Best International Video, Best International Album and Best International Song award for their album, Dr Jones Def Leppard, the big daddies of hard metal received the Lifetime Achievement Award. The biggest applause was reserved for India's very own A.R. Rahman who won the Coca Cola Viewers Choice award. He will go to Las Vegas for the 1998 Billboard Music Awards later this month.
It was an evening of song and dance livened up by Daler's energetic Tunak Tunak, A.R. Rahman's Vande Mataram and the biggest hits of the evening, Chaiyyan Chaiyyan from the film, Dil Se and Junoon's Sayonee. Unlike last year's function marred by the tantrums of Spice Girls, this year's Channel V awards night was a delightful affair which attracted some of the top Indian and international music stars and pushed up the ratings of the channel.
Real life Shanti
If you thought you hadn't had enough of Shanti after 780 episodes on Doordarshan, here's its offspring — Aap Ki Shanti a women-based talkshow on DD every afternoon by the same people.
The anchor of the show is Mandira Bedi, the 'Shanti' of Shanti. Says executive producer Neerav Yadav, "Stepping out from fiction to reality, Mandira now talks to the real life 'Shanti' and they relate to her.
In fact, explains Yadav, the idea of the show came about after the serial's fictional character, Shanti, started receiving letters from women who wanted their problems solved. "We needed to draw the line between fact and fiction and get together a show where the 'Shanti' present in every woman is highlighted."
At least the first few episodes are promising. They deal with women who have overcome odds through sheer dint of courage and perseverance and have set up example for others. So far so good. But even Shanti started on a promising note only to go on and on endlessly. The only claim to fame being that it became Asia's longest running soap!
Chasing a shadow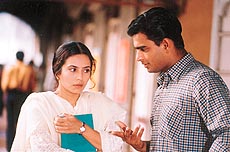 It's a serial with a difference. About how opposites attract. Saaya on Sony is the story of Sudha and Kamiya. A quiet and shy Sudha with a simplicity and beauty that takes one's breath away. And the vibrant Kamiya, full of fun, pranks and an exuberance that borders on frivolity.
They meet for the first time on their way to college. And from then onwards they two grow inseparable and dependent upon each other's friendship. And yet through all this there's a shadow of jealousy and one-upmanship.
The real story begins when the two friends participate in a beauty pageant. Kamiya grooms Sudha, selects her clothes and does her make-up. They both make it to the final — the question round. Kamiya answers with characteristic flirtatious flippancy but Sudha answers with honesty. And she wins.
This sows the seeds of jealousy and hatred and the two torn apart bit by painful bit. Life seems to be playing a cruel game with them and they become sworn enemies. Will they re-unite as friends or live as foes. That's what the storyline is all about — zara hatt ke from the normal run-of-the mill serials.

Natural Rishma
She calls herself "the baby VJ in a VJ food chain." But don't be fooled. Rishma Malik, the 1996 Miss India-Canada, is the latest addition to Channel V's growing list of VJs.
And the stunner is no fluke VJ either. A graduate in communications from the University of Canada, Rishma came to Mumbai and auditioned for Channel V and MTV. She also did a cameo in the video adaptation of Asha Bhosle's Yeh Mera Dil Pyar Ka Deewana.
Rishma was offered the job of Channel V's news anchor which she says was an excellent training ground. But since then she's moved on to House Arrest and Indian Top Ten and is already on way to becoming Channel V's most wanted VJ.
Criminal's mind
It started as a channel which had re-runs of popular English serials, but over the last few months, Star World has metamorphosised into something more — a channel which is airing some of the all-time TV hits of the west.
One of the most riveting serials is The Pretender every Tuesday. It's the story of Jarod Russell (Michael Weiss) who is taken away from his parents as a child prodigy in the early 60s and spends decades in isolation at a think-tank called the 'Centre', a private corporation that sold the services of Jarod's computer-like mind to the highest bidder.
At the 'Centre' Jarod is trained by Dr Sydney Green (Patrick Bauchau), a psychiatrist who teaches him to become a "human chameleon" who can assume any identity and solve any puzzle.
As an adult, Jarod flees the Centre after learning that he has been used to create and execute a series of military coups, financial market manipulations and terrorist strikes, which he believed were only intricate "simulations". He also seeks the truth about his parents, who remain a mystery, while making his own simple discoveries about life beyond the Centre.
The Pretender is a serial which would keep you glued to your TV sets week after week as it goes beyond a thriller and borders on the exploration of the human mind, especially that of a criminal.
— Mukesh Khosla