Five Punjab Ministers resign
CHANDIGARH, Dec 14 — The crisis in the Shiromani Akali Dal took a new turn when at least five ministers submitted their letters of resignation to the Chief Minister, Mr Parkash Singh Badal, late tonight. They are all loyalists of the SGPC President, Mr Gurcharan Singh Tohra.
Tactical retreat by Tohra men
JALANDHAR, Dec 14 — The loyalists of Shiromani Gurdwara Prabandhak Committee chief Gurcharan Singh Tohra today made a tactical retreat in the current Akali strife by appealing to Chief Minister and Akali party president Parkash Singh Badal to appoint his "loyalist" to run the party set-up.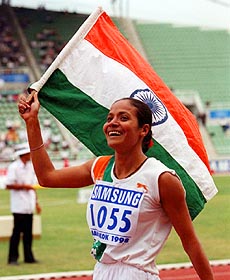 Jyotirmoy Sikdar of India waves the national flag as she runs a victory lap after winning the Asian Games women's 1,500 meter run in Bangkok on Monday. Sikdar captured the gold with the time of 4:12.82.
—AP/PTI